Blackmailed
An EDGY Control fantasy... Are you brave enough to test the waters?
Description
Level: EXTREME
Length: 42 minutes
Category: Mind Control-FANTASY BLACKMAIL & FIN DOMME
Sample: LINK
Can you imagine what it would be like to be totally controlled by a SEXY, sweet YOUNG and somewhat WICKED Girl.  I mean what if She knew just enough about you to have you "BY THE BALLS".
Maybe She would use Her POWER over you to get all She wants...maybe you won't even remember how She got the information that She has on you.
Don't worry, everything that She knows about you will remain a secret as long as She is happy ***GIGGLES***  Would you be a little afraid...does the fear make your c*ck swell?
It will be ok, it's Me (your sweet HYPNOTIC Princess) and you can TRUST Me...you want Me to have you by the b*lls anyway. ***laughing***
NOTE---This is a FANTASY BLACKMAIL & FIN DOMME file, it is NOT for everyone.  Be sure it is for you before you make your purchase.
Product Download
Blackmailed-ir3uya1s.mp3
Blackmailed-ir3uya1s.mp3
Reviews
Wednesday, 21 May 2014
This is one scarily hot file. I usually would run a mile at the thought of something like this, but Domina Shelle turns it into a very exciting experience. When Princess gets this far into your head, it just doesn't matter what she asks, you just do. I will do anything she asks.
Tuesday, 20 May 2014
Domina Shelle is the keeper of secret. And it feels so good to have in our life this kind of confident who will listen patiently, trustfully to all the deepest secret I may hide. She knows how to dig, to let me tell her everything about me, everything that I hide to others. Giving those secrets is so liberating. But in this file, I come to realise, telling her my most deepest secret come with a price, a price that I have to pay in order to feel safe. Domina is sweet, but every secret she keeps comes with a price. This file is for those who want to know the price to pay. This is blackmail.
Tuesday, 20 May 2014
i love Her control, She knows everything about me, She knows all my secret fetishes and fantasies, She is my secret keeper and i know what She can do :) listening will make you fall more into Her power!
More reviews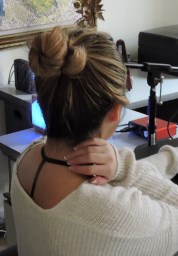 Get Updated