Brain Chip Upgrade 2--Mystery
Implant Upgrade 2 to your "Brain Chip" ...
Description
you are powerless now, just like that. POOFFFF
Everything about you is operating on a system, free from the subtle shifts of personality and desire, free from thinking about how to respond or why, you are responding to your programming and it's time for a new upgrade.
Prepare for Installation:  Power Down subject- Activate control chip –Mystery Implant 2 ready for installation.
NO DETAILS on this implant except that you will find the sexiest submission you may have ever experienced.
Isn't that HOT and a little scary.
(Session is to be listened to by all subjects with My Brain Chip INSTALLED)
Be sure to have your Brain Chip IMPLANTED for this UPGRADE application to be effective.
IMPORTANT:  There are two sessions for DOWNLOAD.  Choose ONLY one and then delete the other.
Product Download
Brain-Chip-Upgrade-2-Edging-(c)ShelleRivers.mp3
Brain-Chip-Upgrade-2-Edging-(c)ShelleRivers.mp3
Brain-Chip-Upgrade-2-Cum-(c)ShelleRivers.mp3
Brain-Chip-Upgrade-2-Cum-(c)ShelleRivers.mp3
Reviews
Monday, 25 December 2017
This one is hard to Review, it´s a Mystery and it should stay as one, so i will not say much, only that i loved the outcome i got on this one and that as much as i love it i am sure i will not hear/read it from here to often >.<
Tuesday, 19 September 2017
I've listened to this file so many times. This file keep blowing me away. I am Dominas mindless puppy. I live to please Her any way She demands.
Tuesday, 12 September 2017
Ha!Ha!Ha!..What the.....There's no doubt who's in control here. Short, intense, very powerful and very naughty. Not at all what I expected, but all the better for it. Love it!
Sunday, 10 September 2017
The Brain Chip files are an excellent way to deepen your submission and obedience to Domina Shelle. The implants and upgrades are short, but they are both powerful and meaningful. It's difficult to write a review of this file while maintaining the mystery, but it is a sexy and Dominant as one would expect from Domina Shelle. For anyone wondering, the choice between the two files is explain in their titles, meaning there is no trick. There at least... :P
Saturday, 02 September 2017
Domina Shelle does it again, taking my submissiveness to yet another level were she exerts her sensual dominance and authority over me. As a chastity slave in training I selected the appropriate option and in under 25 minutes Domina Shelle demonstrated just how much control she has over my mind and body. At the end of the session I found my self on all fours, naked, wearing only my collar, and extremely aroused. Domina was all I could think about and what she had just convinced me to do seemed completely normal. What an amazingly erotic sensation to be so utterly subjugated, willing to do whatever Domina wishes, and happy to submit and serve her every whim. No wonder I'm so obsessed and addicted to Domina Shelle's sessions.
Saturday, 02 September 2017
It was easy choice for me to choose which file to listen. Deleting that other file means that i will never take that path, but i know what is my role as a slave. Domina Shelle is so powerful. She has turned me from a man to a slave and now She has reduced me to even lower level. With this file, She can turn me into this primal animal. i love my owner so much.
Saturday, 02 September 2017
OMG ... giggles... though it is not a sissy related implantation on my brain chip, i still love it very much. But as it is a mystery upgrade i will not reveal it's content... giggles ... furthermore i have the impression that the effects of the upgrade programs become stronger as i was completely obeying the newly installed upgrade without any thoughts or hesitation... i love my brain chip and the installed upgrades!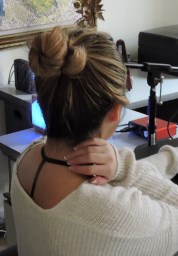 Get Updated