Brain Chip Upgrade-Guinea Pig 1
Implant Upgrade to your Brain Chip - Guinea Pig Experiment 1.
Description
you are powerless now,
Everything about you is operating on a system, free from the subtle shifts of personality and desire, free from thinking about how to respond or why, you are responding to your programming and it's time for a new upgrade.
Prepare for Installation:  Power Down subject- Activate control chip –Guinea Pig - ready for installation.
NO DETAILS on this implant except that you will find yourself with a new KINKY fetish, a desire that is UNLIKE any other desire you may have experienced in the past.  This is an EXPERIMENT to see just how deeply this INSTALLATION will affect you.
Isn't that HOT and a little scary.
(Session is to be listened to by all subjects with My Brain Chip INSTALLED)
Be sure to have your Brain Chip Implanted for this UPGRADE application to be effective.
Product Download
BrainChip-Upgrade-Guinea-Pig-1-(c)ShelleRivers.mp3
BrainChip-Upgrade-Guinea-Pig-1-(c)ShelleRivers.mp3
Reviews
Monday, 25 December 2017
By now i really shouldn´t be surprised about what she can do to me anymore and yet she still finds ways to surprise me once again, with this one she easily gave me a new fetish i never had before, one that i before not even thought about. i am obsessed with something, something that does not really makes Sense to me, how can something simple like this be so erotic? Something so natural you nowadays mostly would not get to see, i don´t understand it, but i do know why it´s such a fun Implant :P
Wednesday, 13 December 2017
I love to try out new fetishes - it is like tasting unknown exotic food! And here is a special taste - a specific desire to that one - i cannot quite put my finger on it. Is it the beauty if natural confident women? i guess it is - but i have 3 days to explore now!. Thank You Domina for this great mind opening upgrade!

Tuesday, 12 December 2017
Domina Shelle is sexy, seductive, powerful and mischievious. This session is definitely the last part. I love playing Domina Shelle's games, because it's always such a pleasure to lose to Her. This control chip upgrade is unexpected, but functions as a perfect illustration of Domina Shelle and the power of Her control chip.
More reviews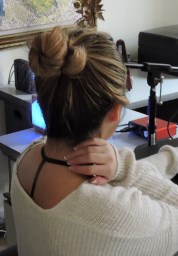 Get Updated