Chastity Lesson 1--The Conditioning
Chastity Lesson 1 - The Conditioning.
Description
You have waited patiently and NOW the time has come.  Time for My gift of CHASTITY to you.  This will allow you to NOT cum for Me.  Yes, giving you the PLEASURE of a full-time erection.  Just think, HARD and HORNY with ME, your Domina/Princess whispering NAUGHTY thoughts into your ears.
This is the first of 5 lessons in your NEW Chastity TRAINING but there will be surprises along the way.  If you fail, I will even allow you to start over.  Don't worry, we will do it until you get it right. ***GIGGLES***
I love teasing you.  Just another step in perfecting you for your place on My farm...
So be closer to Me---Give Me all control of your c**K...and of course your mind.
***You may begin your training right away.  Listen to your first file---and listen at least 3 times.  You may stroke as often and as LONG as you want during your training.  JUST know when to STOP---do not cum.
In case of an accidental release---you must pay the Chastity Penalty and start over with the lesson level that you were on during your release.
Be sure to send ME an email upon beginning your chastity---in the subject line --- you will write (I am now in chastity for you Domina---you own my c **k).
Watch for TEASERS during your training.
Can't wait to see you in SEXUAL AGONY and BLISS.
***INCLUDES PICTURES OF ME.
Product Download
Chastity-Lesson-1-The-Conditioning-d9wbjy2a.mp3
Chastity-Lesson-1-The-Conditioning-d9wbjy2a.mp3
Chastity-Lesson-1-pic-3.JPG
Chastity-Lesson-1-pic-3.JPG
Chastity-TEASE-1-q6mhs8kx.mp3
Chastity-TEASE-1-q6mhs8kx.mp3
Chastity-Lesson-1-pic-1.JPG
Chastity-Lesson-1-pic-1.JPG
Chastity-Lesson-1-pic-2.JPG
Chastity-Lesson-1-pic-2.JPG
Reviews
Thursday, 10 May 2018
I started yesterday, I already listened to the file two times and already feel the need to obey my Domina. I really do not eant to cheat, and I really want to finish this program till the end... Thank You, Domina, for allowing me not to cum.
Saturday, 05 May 2018
This is a very well crafted session to help the listener differentiate between the limits of short term personal gratification and long-term benefits and pleasure dervied from obedience to Domina Shelle. Hypno chastity may not be new but the manner in which Domina Shelle convinces the listener to participate is exceptional. This is the first of five distinct training sessions and in this session Domina Shelle appeals to the submissive mindset of the listener and efficiently conditions them to embrace the many virtues of masturbating without releasing. This is an important first step and very compelling with repitive listens. This is a session every submissive should own!
Thursday, 16 November 2017
Wow! I loved this file. Each time i listened, the intensity of my arousal keep growing. I craved to listen to it over and over again. There's just no way I can stop now. I want to go further down this road and accept whatever is waiting for me. The reviews before this one are spot on...you won't want to cum again. I'm already feeling incredible! This is amazing stuff.
More reviews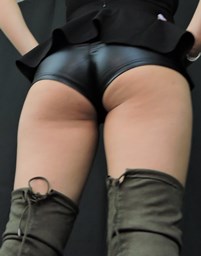 Get Updated