Erotic Control - Rest
I bring together your mental bliss with physical pleasure...
Description
Category: Mind Control-Erotic
Level: POWERFUL
Length: 45 minutes
This file is a COMPULSION.
your training continues to bring your mind and body more and more under My control.  With a long, restful and relaxed induction of Erotic Hypnosis, you slip so deep into complete acceptance.  I'll reach your deepest submissive desires for obedience to My most seductive control.  So obedient and passive.  The more you obey, the more you become mine.
Through repetition you become perfect for Me.  I am truly your obsession.  you dream and think of Me.  All your pleasure comes through Me.  I own your c*ck and I own your mind.  you crave and seek My orgasmic mind control.  Experience the intensity when it all cums together... ~~~GIGGLES~~~
Product Download
Erotic-Control-Rest-iyf6xmd1-(c)ShelleRivers.mp3
Erotic-Control-Rest-iyf6xmd1-(c)ShelleRivers.mp3
Reviews
Monday, 02 October 2017
It is simple logic. It is obvious – easy to repeat – no harm can come from such simple obvious facts. No need to resist the obvious. And I start to think about it – is there a beginning – is there an end? The more i think, the more i think. And the more i think the more i think the more i.... It is a spiral! And as my thoughts spin around the simple facts in a long wonderful induction I do not realize how I am pulled in, deep down where Her voice starts to program me. Am i resting? It feels so good – floating in lust and Her voice. When i came up from trance i could not remember when the induction ended – when the trance ended – when the rest ended. I feel so good – just want to dive in again!
Tuesday, 27 December 2016
This wonderful session further teaches the listener how creative and powerful Domina is. You learn not only that obedience is pleasure but that through ever increasing submission that you are obsessed with Domina. If you crave mind control and an ever increasing acceptance of your role as a submissive this is the file for you!
Friday, 16 December 2016
i'm such a sucker for long inductions like you'll find in this file. Domina Shelle's conversation with you as you drop into trance is priceless here. She wants you to use Her words, and you will. Again and again. Soon realizing you only and always want to use Her words instead of yours. Just another willing step into Her world where you will not want to leave.
Wednesday, 21 September 2016
I can never resist Domina. Dominas control grows more and more. This file took me deeper under Her complete control. I'm lost without Her. She continues to show me the truth and I exist only to serve Her. This file only sealed my sweet fate as Hers to control for life.
Sunday, 18 September 2016
I adored this file. Erotic C
Sunday, 28 August 2016
This File...i don´t know why, but it sounded sooo familiar to me, as if she had used rest in a similar way on another File before, but i just can´t remember if she really did or if i just think she did, it´s weird...Anyway i never rested and relaxed as much as i did under her control and i can´t wait to go to this relaxing Place again and again, resting for Princess feels sooo good
Monday, 22 August 2016
The more you do, the more you do. It doesn't make sense until it makes sense. *smiles* This is a file that absolutely makes sense in every possible way! Go get it and enjoy!
Friday, 19 August 2016
This is such a wonderful file, and it is a true test of Shelle's dominance! It starts off very relaxing, but quickly crescendos into intense bliss.
Thursday, 18 August 2016
This file took me so deep, it's hard to describe. It's so arousing and relaxing at the same time. Each time I listen, my devotion to Princess Shelle increases.
Thursday, 18 August 2016
This file really mad concrete Mistress Shelle''s total ownership of my mind and body. It also made clear my own role. I understand just how complete Shelle''s control is. An amazingly powerful experience!
Wednesday, 17 August 2016
Princess Shelle owns me, i keep falling deeper and deeper every time, She owns my pleasure
Thursday, 04 August 2016
Listening to this recording will have you craving your Princes . you will want to listen to this beautifully crafted file over and over again .
Wednesday, 03 August 2016
Another wonderful relaxing and arousing file! Domina's control grows stronger and stronger with each listen.
Tuesday, 02 August 2016
i don't seem to be able to remember much of this. Dropped so deep that can't reach there when i'm awake. But i've vague memory or feeling of surrendering completly and being so nicely relaxed. Giving in to Domina. Obeying Her. i belong to You, my Domina.
Thursday, 28 July 2016
Princess Shelle's control over me is growing stronger and stronger. i crave to be controlled by Her. This file took me under so easily and so deep and i was in trance for some time after the file ended, experiencing pure mindless bliss until i was able to regain my senses. i want to be in this state forever. i will listen again and again. Thank you Mistress for this wonderful gift!
Tuesday, 26 July 2016
my Princess Shelle is my Everything... i love to rest for Her and with Her voice... i love all the pleasure She gives me while i surrender completely under Her hypnotizing voice... my Domina controls me and i love to be controlled by Her ... especially when She controls my arousal and gives me so great pleasure through it... Thank You my beloved Domina for this wonderful relaxing though also arousing file.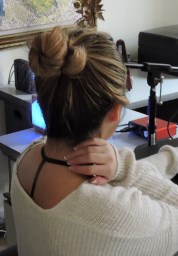 Get Updated