Fantasy House Door #3 - Puppy Training
your first taste of a new level of training as my little puppy pet...
Description
Category: Fantasy House
Level: Moderate
Length: 42 minutes
Sample: LINK
Your first taste of a new level of training as my little puppy pet—almost human—but not exactly....you will be TRAINED to be My best, most OBEDIENT puppy.  File is very interactive---For best effect please be able to move around a little and place a bowl of water on the floor—***GIGGLES***
The induction is VERY powerful---you will fall deep.  Let your inhibitions go and enjoy this most EROTIC Fantasy House.  If you have ever wondered what it would be like to be lead around on My puppy leash, you're about to find out.  This file is more and more effective the more you listen...also enjoy the amazing changes to the induction.
This is a file of COMPLETE submission...NO BESTIALITY...just so you know.
Product Download
Fantasy-House-Puppy-Training-co4anw6t.mp3
Fantasy-House-Puppy-Training-co4anw6t.mp3
Reviews
Thursday, 03 December 2015
This training file is almost unlike any of Domina Shelle's other files I've listened to in how far it goes with interaction and that makes for some very controlling and awesome fun. It takes an amazing and sexy fantasy that I definitively already had, to be Domina's pet, and actually makes it a close reality. It's such an exciting experience and something I went back to go and relive more than a few times. A total submission that I'll never forget, and it's literally a dream come true.
Friday, 13 March 2015
i just discovered this most wonderful work by Domina Shelle and i am feeling such an incredibly deep level of enslavement. It just keeps getting better and better...Oh, my. Take me deeper.
Wednesday, 12 November 2014
I listened to this and I though It was absolutely amazing
Wednesday, 05 November 2014
Thank You my Beautiful Domina for opening Your pet up to a brand new fetish. So arousing, so thrilling and so very, very satisfying. Cam out of this one feeling as though You had given me the best gift i have ever had. Thank You.
Sunday, 02 November 2014
I listened this file first time couple of years ago and it's still one of my all time favorites. This is different than most of her files because this is physically more interactive. Here she makes you move around in hypnosis. Quite often that wake's me up too much, but here it worked. The ending for me is so memorable. It was my first time doing that and I remember being surprised that I could follow Domina Shelle's instructions and time it perfectly. I hope some day there will be sequeI to this. love being good puppy for Domina Shelle. Woof! Woof!
Sunday, 02 November 2014
i was never really interested in being a puppy for my Domina. But with Her wise guidance She commanded me to listen to it and become a cute lil puppy for Her. i obeyed and i listened to it. The trance itself seemed to me not so deep like in other files of my Domina. But everything She told me became true in my mind's eye. And my mind was literally blown away as She was there in my mind dressed in my favorite fetish. The perfect shaped body of my Domina was covered by a thin layer of latex. A dream came true, as i myself was submissively bound to the floor and kneeling below Her. When She let my inhale Her scent as She put Her panties in a bowl below my nose, it was too late for me. i would do everything She asks me. And so i became Her cute lil puppy. The training i received from Her is instructive as She taught me how a puppy has to behave. As it is always fun and pleasure to obey my Domina commands, this file is so enjoyable. That is why i crave to be a good puppy for my Domina and i urge to receive more training from Her. i need to be trained over and over. So i will listen again and again. i am so glad that She ordered me to listen to this puppy training. Otherwise i would never know what pleasure it is to be a little puppy owned by Her. Everyone who has still doubts to become a puppy for Domina Shelle should listen to this file. After it there will be no doubt left. The only thing that is left will be a craving to receive more training to become an even better puppy for Domina Shelle.rni conclusion the only thing left i have to say is: ringo the scottish terrier says: "woof woof woof woof woof woof woof woof woof woof". i listen and i obey.
Friday, 31 October 2014
Journey slave review Princess told me to Review a File on her Site and i happily will do this for her She told me to listen to this File and i did not know what will happen, i also NEVER read the description, because i trust her, she knows what she does, but because of this i almost falled out of the Trance, because when you arive this point of walking around, the reason for the bowl etc. it´s not really clear if you should imagine this or act like this, to know this you must have read the Description first, a good idea for this would be a Disclaimer at the beginning of the File, but maybe it was just my own fault to not read the description... Anyway for the File itself, even if you have like me not a Fetish for being a puppy, you will still enjoy this File and in the end you will beg to be her Puppy that´s for Sure, since i listened to this i want to relisten and i will, but like i said it´s not my fetish, so why do i want to relisten so badly? Because this File is just so powerful and enjoyable (she really likes to train you as puppy) that you will not have any other choice then to crave more... Beside the Idea with the Disclaimer there is nothing what i could think of to make this File better and i talk on purpose not much about what happens, because that´s something everyone should find out on his own, just listen and see for yourself how quickly you will fall and maybe you get a new fetish who knows
Sunday, 09 March 2014
I'm ready for some more training! This file quickly brought me to the level of being a true puppy for Princess Shelle after stepping through the fantasy door. This is not a sit in your chair or lay on the bed file, it is much more interactive than that. She made me step through Her training routine, making me wish the file was much longer so that I could show Her my puppy love for Her.
Saturday, 08 March 2014
Princess Shelle continues your training in this file. You love to obey your Mistress and she even gives you treats. With a leash and collar on, you find yourself naked and at Domina's feet obeying her commands. Another wonderful trip into Princess Shelle's fantasy house.
Tuesday, 18 September 2012
a Master class,, Princess Shelle is competing Herself
Tuesday, 11 September 2012
This is a great recording. The ease with which Princess Shelle manipulates, controls and directs the mind (and body) with her words is breathtaking. Totally loved the induction, and then the journey experienced while under Shelle's spell was beyond exciting.
Tuesday, 11 September 2012
Another amazing mp3. I am not really into humiliation but being converted into being Her puppy ... impossible to say no to that. She is the best trainer a puppy can desire. She obviously enjoys to train Her puppy dogs and giving those pleasure injections which makes you weaker and more submissive all the time. As always ... She is the best.
Tuesday, 28 August 2012
Being leashed and collared for your Mistress is a natural state for the submissive, but even so puppy play might not be for everyone. Domina Shelle has been softening Her slaves up for this idea for a long time, calling us puppies. It felt so natural to sit at Domina Shelle's feet, eager to obey Her commands. I had so much fun being Domina's good little puppy in this file and i can't wait for the next installment.
Sunday, 26 August 2012
The level claims this file as "moderate", but I found found it to be pretty strong. I was deeply drawn into this fantasy, and could actually taste the doggy treats. Of course, I could also smell the more alluring scents of my Princess. I'll leave those aromas for the reader to imagine, until they listen to the file themselves. It was one of the more interactive files that I've experienced, so be prepared to do more than just sit back and relax. Princess actually puts you through training exercises.
Friday, 24 August 2012
Great delicious kinky fun! In a white room... a dog's life... and i love it. woof woof! Two barks. puppy needs more training. puppy loves Princess.
Thursday, 23 August 2012
Well, needless to say, most of us have been waiting patiently and obediently for this recording, and I can tell you, you WON'T be disappointed! Princess Shelle will take you down extremely deeply using a very sexy technique and lead you (In quite a unique way) to the Fantasy House. Here, she will train you to be her loyal puppydog, be good and you'll receive a treat, be bad and there are consequences! The only thing I found disappointing was when the recording ended, I needed more. But don't worry, Princess Shelle is a kind Mistress and I'm sure a sequel to this training session will be her next doggy treat. Woof, woof.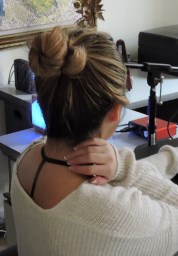 Get Updated