Fantasy House Dungeon - Sissy
Come, experience your inner lesbian feelings with Me...
Description
Level: Strong
Length: 48 minutes
Category: Fantasy House dungeon level-(mental Femme)
Come to My dungeon in My Fantasy House----where anything can and will happen:
My sissy pets seem to have a fantasy about having a sexual encounter, as a woman with a woman—turns Me on too (giggle).  I will transform you, seduce you, take complete control of My sexy hypno-toy (girl).
Come, experience your inner lesbian feelings with Me.
Product Download
Fantasy-House-Lesbian-0jtskx8f.mp3
Fantasy-House-Lesbian-0jtskx8f.mp3
Reviews
Sunday, 24 May 2015
i was curious about the lesbian fantasy and i was surprised with an amazing file by my Domina. As usual She took me deep into trance. But furthermore She changed me into Her little naughty slave girl with whom She can play with. The pleasures my Domina let me feel as a female are incredible. Waves of orgasmic lust were shaking me as She aroused me higher and higher. As i was never thinking to be feminine before now this has changed when i think back to these amazing adventure i've experienced together with my beloved Domina.
Friday, 08 May 2015
This feminization/sissy thing isn't something that I would usually choose, but this was the only file in special deals that I didn't own already. So I got bit curious and decided to try this. And I'm happy that I did, this was interesting, passionate and erotic. Domina Shelle described that dungeon in such a detail that it felt like a real place. A place that I would love to visit. :)
Wednesday, 06 May 2015
Bravo. Now that was my kind of lesbian adventure... Domino Shelle, You own me! You make it so easy to try on a new fantasy. This file will make you want to be the girl that our Wicked Domina takes to bed tonight.
More reviews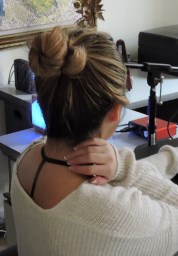 Get Updated