Femme 3 - Drag
Femme 3 - Drag--Dress up...Part 3 in the "Femme" series.
Description
Level: STRONG
Length: 23 minutes
Category: Femme-Sissy
Did you know---Drag is practiced by people of all sexual orientations and gender identities.  Such a sexy thing for your Domina to share with you.
This is the next step in your journey DEEPER into your softer more feminine side.  A new beginning with instruction in accepting and embracing your needs and desires to dress in sexy women's attire.  You will find that the more you expose yourself to this treatment the more potent it will become.
DOSE by dose of My chemical bringing you to complete acceptance....leading you to a full trance-formation to My sissy slut.  FUN, SEXY and safe.
Each visit to my office will bring you closer to an amazing EXPERIENCE of self freedom, and will leave you feeling sexy, soft, WET and slutty. ***GIGGLES***
Product Download
Femme-3-Drag-iw5lbd4o.mp3_2
Reviews
Sunday, 15 November 2015
Now as i write this review i am fully dressed in female clothing and it feels wonderful. The silky fabric caressing my shaved body. When i asked my beloved Domina how i shall proceed on my journey to be more feminine She suggested me this series. And WOW i feel so confident and content anytime i wear womens clothing. Furthermore me the inner female became stronger and i embrace whenever i can take control over this body ... giggles... and beside the support Dominas suggestions gives me while She strengthens my self confidence every time i listen to one of the files, She and Lady Helena support me with my new found femininity where ever and when ever they can. i love to be an obedient handmaiden for them, a lil sissy slave. Thank You my beloved Domina and thank You Lady Helena for all the support and love i get from both of You.
Tuesday, 15 September 2015
A truly unique series, a must-have for anyone struggling with expressing their feminine side. See my review on the first in the series.
Friday, 01 May 2015
Princess Shelle(Nurse) is the best hypnotist that I can have in my life, Princess Shelle Files are very good.
More reviews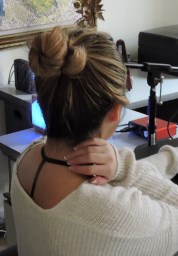 Get Updated