Forced Femme--The Beginning
Explore My power over you while also bringing out your inner feminine side...
Description
IMPORTANT:  Read the description prior to purchasing.
I wonder if you sometimes forget just how much power your Domina holds over you, My pet.  This file will explore this concept while also bringing out your inner feminine side.  Listen as My sweet southern voice results in your total surrender, all the while I start coaxing your feminine nature from deep within your psyche.  Ultimately bringing it to the surface for possibly the first time.  Cum and explore this side of yourself.  Show your tender, sweet side to your Domina...W/we have no secrets.
Does this scare you, My lil pet....of course not, My strong masculine male...giggles.  you would never find yourself wearing panties, stockings or nail polish, right.  Smile.  No worries, My pet, even if by the end of the file you found yourself putting on sexy lingerie, you could always blame your Domina for commanding you.  As for My sweet sissy pets, you will love this powerful file as I take control of you and further fan your feminine side and nature. This file will allow U/us to play and have some fun together.
Prior to listening why not do a little shopping at your local lingerie store and pick up a few things and/or pick up a few cosmetics.  How much or how little is completely your choice.  Maybe start something small such as a pair of lace panties.  Completely your choice, My pet.
This might not be for everyone, although, if you are open minded and desire to experience something new while exploring My power over your OPEN mind, you will love this file.
Category: Sissy--Forced Femme
Level: Powerful
Length: 34 minutes
Product Download
Forced-Femme-The-Beginning-7bw-(c)ShelleRivers.mp3
Reviews
Monday, 23 May 2016
This trance was the deepest I have gone for Domina. I felt completely out of control when I woke up. I couldn't resist her commands at all.
Friday, 08 April 2016
Wow. Powerful is the right word for this file. I have never gone so deep or wanted so desperately to give total control to Domina's magical voice. She is the very best! This really brought my feminine side to the surface and made me very happy. I need more files like this!
Monday, 28 March 2016
As Domina says this file might not be for everyone, BUT it is a MUST HAVE for any sissy! As the title is "Force-Femme", it is not about forcing a boy-slave into femininity... it is about forcing the inner female out of ones self, letting her take over... and it feels sooo good to be released AND have that control... giggles... Still i know i am the same person BUT when Domina release my female site from the depth of my mind, i could feel the switching of thoughts, emotions and everything else. i feel so great now after being dressed up with panties, bra, a dress. i love my silky shaved legs caressing another as i walk in my high heels. Thank You my Domina for forcing me out!
More reviews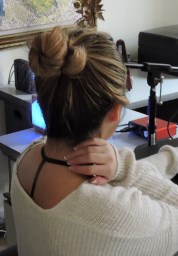 Get Updated