Hypnotized
This file is PERFECT if you are just COMING to ME...Or is the DEEPEST trance if you already belong to ME.
Description
Level: Moderate-STRONG
Length: 25 minutes
Category: Brainwash-Mind Control
Sample: LINK
There is nothing I would like more than to hypnotize you.  And I will hypnotize you.  There is no doubt about it.  You will fall for Me.  you will fall deeply under My spell.  Do you think you can handle that?  Are you ready to feel My hypnotic power?  Once we begin, there is no turning back.
This file is PERFECT if you are just COMING to ME...A PERFECT BEGINNING....Or the DEEPEST trance if you already belong to ME....Listen and find yourself LOST in TRANCE - HYPNOTIZED for ME.
This is a VERY deep trance, you can not resist.
Product Download
Hypnotized-Doppler-Effects-2s7nglfz.mp3
Hypnotized-Doppler-Effects-2s7nglfz.mp3
Hypnotized-Doppler-Binaural-Effects-2s7nglfz.mp3
Hypnotized-Doppler-Binaural-Effects-2s7nglfz.mp3
Reviews
Sunday, 17 September 2017
i had forgotten about this file until it came up as special deal. I loved it at the beginning of my training and i recommend it for a lot of repetitions - for everyone. Today - after many many other sessions with Domina, after many triggers and mind changing brainwashing i realize: This file - Hypnotized - is very very beautiful: It brought back the butterfly-in-stomach feeling when here voice kissed my mind for the first time! It is the foundation of future training - and after years it is so sweet to remember the first kiss!
Sunday, 02 October 2016
i listen to this regularly. i just want to go deeper and deeper for Domina Shelle.
Saturday, 28 March 2015
With this file Domina Shelle installs a trigger that ensures the success of further brainwashing by Her. Her sweet relaxing voice take you down quickly and without any resistance She will easily manipulate your mind. i crave to have my daily hypnosis by my beloved Domina and this file is one of the reasons.
Saturday, 05 October 2013
Hypnotized...hypnotized...hypnotized...hypnotized...hypnotized...
Thursday, 22 August 2013
Princess' seductive voice leads you into a neverending loop of hypnosis, pleasure, and obedience. All three elements reinforce and deepen each other with every sexy word She speaks...leaving you so hypnotized and aroused, reluctant to wake up, but oh so ready to go deep for Princess again and again...
Saturday, 23 March 2013
This is a fantastic "little" session. Princess Shelle will make You feel super relaxed and pleasant. At 25 minutes, it's a great tonic for a time in the day you just need to let go for a bit... Of course Princess never loses an opportunity to condition and program Her relaxed entranced sujects, which of course makes the feelings of relaxed hypnosis this file gives even more pleasant. But this file has a very special quality: if you loop it, the mind enslaving effect multiplies. Listen twice, and it will have twice the effect... loop it through the night, and discover that it is undoubtedly one of Princess Shelle's most powerful brainwashing sessions of all. An absolute must have. Just feel the pleasant relaxing submissive feelings and love... eventually take over completely.
Sunday, 24 February 2013
Wow! The Deepest trance is no joke, this file is amazing! I had one of my deepest trances ever from this file on just the first listen. I can tell this file is one that I'm going to listen to often. I woke up feeling so good, horny, and thinking of Mistress Shelle. The most perfect combination!
Monday, 14 January 2013
This file was my introduction to Princess Shelle. i first heard it on Descent Hypnosis Radio and was captivated immediately. For me, it was like a siren call. It's no wonder Princess decided this file would be a good way of attracting more potential slaves. i still listen to it all the time and it works as well today as it did back then. i find it deeply hypnotic and highly erotic. i love it.
Saturday, 12 November 2011
Listening to this file took me deeper than i thought i would, being the first file of Princess Shelle's that i listened to. After listening to this file, i knew that there was no turning back, i needed to listen more and more. Highly recommended as an introduction to Princess Shelle's hypnosis.
Saturday, 12 November 2011
If you are thinking about getting to know Princess Shelle, this is a very good file to begin downloading. It was my first file and you become acquainted with her beautiful voice and sweet but naughty character. Go ahead and buy it, you won't be sorry!
Thursday, 03 November 2011
I have listened to this over and over today, and I feel soooooo entranced! My body, mind and entire sex life are now in the hands of Princess Shelle. I feel like there is nothing I will not do for her. This recording just drums it in to your head that she now controls you. I am hers. I highly recommend this to anyone who wants to really feel that numb feeling of being under and controlled. I just love her.
Monday, 19 September 2011
This is an amazing file, you will go down deep in trance again and again again, and you will love every minute of it.
Saturday, 03 September 2011
You cannot help but keep going down and down and down, until you are completely hypnotized and under Princess Shelles's control. The word "hypnotized" then becomes a special word to drag you back down over and over again from then on.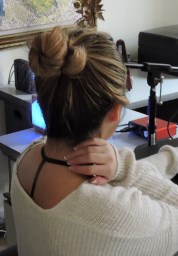 Get Updated