MASTER Conditioning
Conditioning your Helpless mind to serve ME better.
Description
Level: Powerful
Length: 53 minutes
Category: Mind Conditioning-Brainwashing--femdom hypnosis
Sample: LINK
Conditioning your Helpless mind...
"Utter bombardment on your brain".
This mp3 is a MUST HAVE if you want to feel the full effects of My work, as it will soften your mind, remove all resistance and prepare you for your future.
Powerful 3D effects that allow Me to penetrate the far corners of your mind.  Feel My voice instantly reach further and deeper inside you.
Product Download
MASTER-Conditioning-yxr1lmge-(c)ShelleRivers.mp3
MASTER-Conditioning-yxr1lmge-(c)ShelleRivers.mp3
Reviews
Sunday, 04 March 2018
Domina never tries to persuade me or to convince me. No need if I believe or not, with her conditioning she works directly with my subconscious mind and slowly I start to think HER way. My conscious mind does not act, think or decide but executes what SHE has planted into my subconscious mind. The topics of this file are not "new" - but the administration is different and therefore it complements HER other training sessions. I love to loop MasterConditioning during day to day tasks or in the background for quite moments when I crave Her voice but for whatever reason cannot enter trance. A must have for real Domina Shelle devotees!
Saturday, 02 September 2017
Bombard is a good word for this trance. It slowly builds and simply will leave you numb by the conclusion. A decimate buy and great addition to any collection.
Saturday, 26 November 2016
If you are new to Princess Shelle this file is an absolute must buy. I'll go out on a limb and suggest you get this even before Dopamine and definitely before Master Triggers, which in my opinion is inferior to this file. For those who are experienced with Shelle, you will get extraordinary value from this file, since you can listen again and again for relentless taming of your resistance and will, ongoing softening of your mind and, exactly as described, an utter bombardment on your brain".

Master Conditioning is unusual in the Shelle repertoire in having no induction. The conditioning simply begins as it continues throughout the rest of the file by appealing to your rational brain, and explaining in objective language the process of hypnosis and brainwashing, before slowly morphing into a more sensual assault on your mind and body. The combined effect of appealing both to emotion and intellect leaves the mind with absolutely no wriggle room and you can simply find yourself incapable of thinking beyond it.

Whoever scripted this file - and if it is truly Shelle Rivers then God help us - has clearly constructed the recording with a fair degree of intellectual depth, such that the explanation unfolds in layers, each one softly closing off another space through which your helpless mind might otherwise find sanctuary. Hypnosis, brainwashing, mindlessness and arousal combine to leave your entire being devoid of any motive or imagination even to try to resist.
More reviews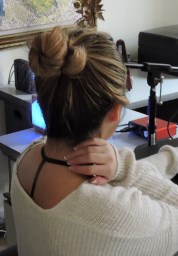 Get Updated