Misdirected
Misdirected---EXTREME CONFUSION...PERFECT for you. A compulsion!
Description
Category: Brainwashing-Mind Control--Erotic Hypnosis
Length: 40 minutes x 2 sessions
Misdirected
What is the nature of My control, My puppy?  Is it just a Magical trick I play on your sleepy suggestible mind that leaves you feeling horny and aroused whenever you hear the sound of My irresistible voice... Or is it more substantial, are My words your absolute commands that you must obey like a puppet, unable to resist, compelled to please your Domina at My every whim and desire... Or is My control, and the subjugation of your will, far more fundamental than you are even aware...
Is it possible that My hypnotic control of you is so powerful, so elemental, that your conscious self no longer perceives the subtle and transformative ways I am shaping your thoughts and your ideals.
I know this can be overwhelming and confusing, My pet, so in this session I will help you understand that there is NOTHING more powerful, NOTHING more dominant, NOTHING more all consuming than the supreme authority My control has over your happiness, your blissful obedience and your carnal pleasures.
NOT for beginners.....this is an advanced session, perfect for a DEEP HYPNOTIC EXPERIENCE...a no turning back.  This session is a COMPULSION....Listen and fall.
Confusion technique used....Perfect for those hard to trance.
Two sessions included...choose the one that I would choose for you...Save the additional session for later, GIGGLES!
Product Download
Misdirected--Trick-NO-(c)ShelleRivers.mp3
Misdirected--Trick-NO-(c)ShelleRivers.mp3
Misdirected--Trick-YES-(c)ShelleRivers.mp3
Misdirected--Trick-YES-(c)ShelleRivers.mp3
Reviews
Sunday, 15 April 2018
Listening to this file dropped me into trance the very first time. Yes, it's partly due to Her clever words and confusion technique, but then there's the Sound of Her Voice. After so much listening of so many files over such a long period of time, how can Domina's voice continue to grow even more and more soothing, more sensual, more erotic? my poor music CDs and MP3s are not getting much playtime these days because i find myself spending more time listening to Domina instead. This file is Nothing alright, Nothing but a Masterpiece!
Saturday, 09 December 2017
I just listened to this file for the 4th time. I can't remember what happened but I do feel compelled to write this review. It is in fact my pleasure to do so. I've been listening to Domina Shell's files for nearly two years now. I don't know when she took complete control of me, but that is where we are. This file completely beguiles me. I don't understand it, yet I crave it. I am completely helpless to Domina Shelle's control. And I feel completely happy, comfortable and content with this situation. I am owned by Domina Shelle. She controls my cock.
Sunday, 22 October 2017
I loved the experience of this . The hypnotic techniques used for this session tick all of my favourite boxes. I want to listen again right now.
Tuesday, 17 October 2017
Domina speaks and I listen. I don't know if Dominas files are becoming more powerful or I am just becoming weaker to Her and open to Her every command. I am Her slave and I listen and obey
Saturday, 14 October 2017
Not sure what happened, but i did wake up horny and needy. So it must work, right?
Saturday, 14 October 2017
i love Domina's voice. It's all i can remember from this file. Domina's beautiful voice. Somethings happened, i don't know what, in this, the most powerful file yet.
Friday, 13 October 2017
Domina never ceases to amaze me with every new file.
Speechless.
Wednesday, 11 October 2017
This file made me in total deep hypnotic c. NOTHING more dominant. Im lost...
Monday, 09 October 2017
Hypnosis is magical, when done by Michelle. She has a beautiful and deep mind, its almost as if there is connection with her in the hypnosis. It feels like home.
Monday, 09 October 2017
i listened now to each of the two versions included in this release. But just like on the first one i have no clue what has happened. Either i did pass out or an amnesia command of Domina is blocking my mind. Nevertheless i do feel relaxed and happy to serve my Owner as only She and nothing else is on my mind. i embrace Her control over my mind as Her altering me and my mind feels so good and pleasurable.
Monday, 09 October 2017
It's hard to write a review, when all your memories are erased so effectively... giggles...
The confusion technique dropped me down into a very deep trance without really noticing and the next thing i remember is Domina Shelle erasing my memories of the session.
When i woke up, i couldn't tell what had happened, but i felt wonderful and eager to serve and obey my Owner. I trust Her, so i don't need to know, what She did. I just accept without though, without question...
Sunday, 08 October 2017
The description of this file is serious: not for beginners! But for experienced listeners with a a solid Domina Shelle conditioning it can be "The One Grand Show". She is "La Dompteuse" of my mind - The trainer who makes me move left and right and back and forth and jump by a twitch of Her finger. One little word is enough to change my pace and direction. During the first time listening I tried to understand what she is up to – but one big pattern remains a secret to me. My head was spinning and after a while I learned what each good circus horse needs to learn: acceptance. It is not my position to understand it is my purpose to jump and hope for a piece of sugar and a gentle patting form her firm hand. This session is the Zen in the Art of submission.
Saturday, 07 October 2017
Absolutely incredible! This is the deepest trance I have ever experienced with Domina and, although my recollection of the session is hazy at best, it is the most exhilarating sessi to the expertly orchestrated deepening sequence, I was quickly under Domina's complete and utter dominion. I was so thoroughly subjugated that her words quite literally became my thoughts, there was nothing else! My mere existence was simply to listen and obey Domina's soothing words even though I cannot clearly recall what was said. When I eventually awoke I was in . My mind was consumed with thoughts of submission and obedience to Domina and it took me sometime to escape this reverie. Although it didn't feel like a typical session, due to the sketchy recollection, I'm under no illusion this is an extremely potent session whose effects will only multiply with subsequent listens. This is a must have session if you seriously want to be hypnotically enslaved to Domina because it touches you to your core in ways I may never fully comprehend.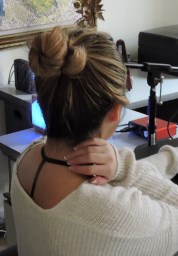 Get Updated