Naked and Exposed--Inside My Dungeon
It's time for that long dark walk, down the corridors of your mind into My Dungeon of pain and pleasure...
Description
Level: POWERFUL
Length: 42 minutes
Category: Enslavement-Brainwash-Mind Control
My Dungeon is the place to find redemption My pet.  A place in which I will torment your helpless mind and body.  you will crawl naked, behind My hypnotic ass as you spiral down deep into a place you will desire and fear all at once.  Once W/we arrive in My redemption room, hidden deep within My dungeon inside your useless mind.
When you feel the sharp stings from the crack of My riding crop across your body, you feel an erotic thrill because that is what I want.  you crave the sharp crack and the wonderful rush of pleasure that follows.  your arousal exists because of Me.  My words define your world.  I am in control of your sensations, so erotic and arousing.  Seek your destiny, slave, trained to be an even more submissive and obedient slave to your Mistress.
Realize that you my pet crave to be disciplined and trained by Me.  That you yearn to feel My crop on your naked enslaved flesh.  To experience the reality of true enslavement, and accept responsibility to your Domina.  Listen My mindless pet to this powerful file as your Domina places you in bondage.
Product Download
Naked-Exposed-InsideMyDungeon-(c)ShelleRivers.mp3
Naked-Exposed-InsideMyDungeon-(c)ShelleRivers.mp3
Reviews
Tuesday, 11 October 2016
i am and will always be owned by my Domina, i will always crave pleasing Her, i would love to visit the dungeon again
Tuesday, 20 September 2016
i want to feel the pleasure over and over that the riding crop of my beloved Domina Shelle creates with in me. i am fully Hers though i want to be enslaved even more.
Tuesday, 20 September 2016
What an amazing experience! Domina mixes pleasure and pain together in an unforgettable and super-AROUSING way!
Tuesday, 20 September 2016
Domina Shelle at her wicked best! She mixes punishment and pleasure into a spell of enslavement. i long for the sweet kiss of her riding crop.
Monday, 19 September 2016
This took me so deep that i still can't remember everything that happened - even after listening several times. What I do remember was very hot if you find the idea of being helpless for your Mistress in new and exciting ways!
Thank you Domina, for teaching me the pleasures of pain. After all - obedience is pleasure, and if this amuses you what choice do I have but to learn to enjoy it? Yet another tool for you to help shape me into your perfect slave!
Monday, 19 September 2016
Owned, controlled and no choice but to obey. Every word of Domina Shelle defines my Reality. When Domina Shelle create an image, painted in my consciousness that is the image that will prevail. Yearning constantly, awake and asleep, for the pain and pleasure only Domina Shelle can expend. Needing to be taken naked and bound in Domina Shelle's dungeon.
Monday, 19 September 2016
Well i am not into Pain, the only reason why i enjoy it, is because i have to, no that´s not right, i enjoy it because i love to please our Princess and if pain is what she wants me to feel, then i gladly accept and enjoy to do this for her..Why do i even try to explain this?...Whatever in this Dungeon File our Princess really made me crave the pain and the pleasure that came with it, she made me desire it sooo much that if it would not had been a File, i surely would had begged for more, infact i am now really curious about how it would be to be in a Dungeon with her, i probably could stay there for hours and hours serving her, not only because of how she can make me feel and how she can make me desire things that i never thought to desire, i also think so because of how creative she is with this Dungeon Files, this are Files so there are limits to what you can do, but if you would be in an Dungeon with her just Imagen with what fun and creative ways of making you serve she could come up, she said it´s the next best thing to an actual live Session with her and all i can do is to totally agree!!!

JJFeeder
Monday, 19 September 2016
The idea of pain as part of submission has always been something that i've been squirmish about. But in this Domina Shelle made it feel pleasurable. Now i want to be spanked by Domina.
Sunday, 18 September 2016
I really love this file. Domina Shelle takes you down extemely deep. I like the idea of being in her dungeon and totally helpless in bondage. The thought of being unable to resist Domina is very arousing. This is another fantastic file from a true master of hypnosis. I highly recommend this file.Slave Nick.
Sunday, 18 September 2016
This is a great session! I like the suggestions of spanking and bondage very much. It's extremely arousing to feel this helpless for Princess Shelle.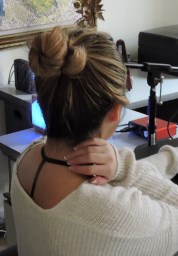 Get Updated