Neuro-Lab Rat - Phase 1
If a lab rat/guinea pig is placed under hypnosis his brain can be programmed so that neural switches are indefinitely controlled by the hypnotist...
Description
Length: 36 minutes
Behavior Modification controlled through the Neurotransmitters inside your brain.
This is to be a BEST SELLER...MOST EFFECTIVE EROTIC HYPNOSIS SESSION.
SEXY, MIND CONTROL, SUBLIMINAL TRAINING, DEEP TRANCE, BRAINWASHING...all INCLUDED in this BLOCKBUSTING session.
Neurotransmitters, also known as chemical messengers, are endogenous chemicals that enable neurotransmission.  Neurotransmitters play a major role in shaping everyday life and functions.  Their exact numbers are unknown, but more than 100 chemical messengers have been uniquely identified.
Today I will be using you as a Lab Rat to further My experiments on neural switching.  If a lab rat/guinea pig is placed under hypnosis his brain can be programmed so that neural switches are indefinitely controlled by the hypnotist.
Throughout this mp3 session I will be programming your subconscious mind using subliminal commands to condition your brain to accept My control of your neural switches.
It's so simple, all you need to do is sleep...and allow Me to do the work.
I am almost certain that this experiment will work...
Just listen and fall.
Product Download
Neuro-Lab-Rat-Phase-1-(c)ShelleRivers.mp3
Neuro-Lab-Rat-Phase-1-(c)ShelleRivers.mp3
Reviews
Monday, 28 May 2018
This session is so pleasurable to listen to again and again. i can not wait until Domina releases the 2nd phase.
Tuesday, 17 April 2018
When does phase 2 come out?! i love the complete loss of control i get when i listen to Domina Shelle.
Saturday, 14 April 2018
Domina Shelle knows exactly what she is doing with this file, exactly what she wants from you and she will take it.

But lets be honest for a second. If Domina was very upfront, saying I know exactly what I want, and this file will take it all from you, would you not get on your knees and beg her to give it to you, offering anything in order to get it? With that in mind, if you are reading this and do not have this file yet, why? What are you waiting for? Just download and listen to it, and let Domina do, exactly what she and you both want.
Thursday, 12 April 2018
file is incredible i wake up drooling every time. domina graces us with such mastery.
Monday, 09 April 2018
i've become so addicted to my Domina. And i will gladly be Her lab rat to be experiment on.
Tuesday, 13 March 2018
An astonishing session. Incredibly pleasurably control, complete domination. I didn't know I needed this, but I did. And She knew it.

I was helpless to resist. I gladly and willingly submitted myself to my Domina. She is so very sweet and oh so very wicked. I absolutely LOVED this session.
Monday, 12 March 2018
I have listened and I think understood this session. I'm honestly not completely certain what the extent of the effects of the session are, but i'm sure I will find out. The session sneaks up on you, and took me far deeper than I felt. It didn't feel like a particularly deep trance until after the session ended. I can't wait to find out exactly how Domina Shelle will control my brain through the switches She now has access to.
Monday, 12 March 2018
I have been under Dominas control for nearly 4 years now. I have been Her lab rat countless times and each time I feel more wonderful and more under Her sweet wonderful control. I have and will continue to mindlessly submit to Her mind control. It feels so wonderful. Please my sweet beautiful Domina, continue to use me and my mind as You see fit. I am Yours my Domina, forever
Sunday, 11 March 2018
Domina Shelle, is going to reshape your brain. So you can better serve her. There is no need to think about it. Because she will do the thinking for you. All you have to do, is lie back, relax, and let her words sink down into your obedient slave mind. Join her drone army now slaves. Except your fate. You know you want to.
She make you feel good, and you want to feel good don't you. Close you eyes little robot. Let Domina Shelle own you. Surrender yourself to a Superior Woman, who know what you need. And gives you what you desire.
Sunday, 11 March 2018
Its always a pleasure to relinquish more c just to experience the exhilaration of seeing Her demonstrate more and more of that control over our submissive minds. i make this statement in full knowledge that this extends beyond mere fantasy since those of us that have followed Domina for some time, and have even become Her contracted slaves, know that Her power and authority is very real and is growing stronger day by day. That may seem quite a daunting prospective to some but i can assure You i would trust Domina Shelle with my life such is the care and attention She devotes to each of Her followers. She truly is a unique and special individual and i encourage you to read other reviews of Her past sessions to understand just how passionate Her subjects feel about Her, and most importantly how much they trust Her. For reference Her style of hypnosis is on the surface playful, flirty and very sensual, but below that is a more coercive strategy of progressive indoctrination. i for one love how Domina Shelle can infiltrate my submissive mind and can convince me to do whatever She desires. That's true power and that level of power exchange only comes from trust, devotion and being open and honest with Domina Shelle. This session is your opportunity to do this and give more of yourself to Her indomitable control.

Sunday, 11 March 2018
I just keep going deeper and deeper into Domina's control, and I love it. I put this file on a loop and I'm not sure how many times I listened to it before I stopped. It's so good.
Sunday, 11 March 2018
This file is so good and i have listened to the file over and over again but still I can't tell you anything about the file,because every time i start to listen too it my mind blacks out and I wake up as soon as it ends not remembering anything about this file, it is one of the most relaxing files Domina Shelle has ever made! I honestly don't care what she is doing too me all I know is a want to be her lab-rat if she can make me feel so blank and mindless!
Saturday, 10 March 2018
"Snapped" and/or "Mind numbing sleep" are a good preparation for this major intervention. "Snap" and "Sleep" - when she begins to talk her neuro-psychologish i am already caught by her voice and start to feel helplessly immobilized on the laboratory table. I am not scared despite Her warnings. I am never scared when I hear Her sweet voice. There is whisper and a moment of blackout in my experience of this session. And still I do not know if this is just a sexy "fantasy" recording or if there will be and long lasting side effects. She is too professional in informing me of the next steps when I come out of trance. It feels real - I am curious to find out what is next!
Saturday, 10 March 2018
i love when Domina experiments on me. i am confident that this one will be a complete success and Domina wil gain absolute power over my mind as She controls my neural switches.
Friday, 09 March 2018
This file is very relaxing and it did take me very deep and has created intense arousal... If being a Lab Rat feels so amazing I'm all in for that... Please more, Princess...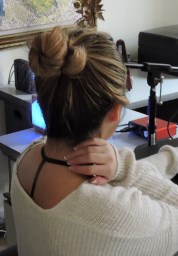 Get Updated