Queen Of Hearts
A MYSTERIOUS mind numbing file...intense...mystical and erotic.
Description
Level: Very Strong
Length: 43 minutes
Category: Brainwash-Erotic
Sample: LINK
A MYSTERIOUS mind numbing file...intense...mystical and erotic.
Enhancing your most sexual desires.  Come, fall into a deeper submission as My words untangle inside your mind.
Would you allow Me to play inside your Subconscious Mind without knowing what My intentions are?....Are you afraid of what I might do if you completely give in?
I mean every single moment is a complete surprise.  Does the MYSTERY and SUSPENSE of NOT knowing anything about the contents of the file tighten your pants a little?
If you were to wake up and not remember what happened, would you be scared?
Powerful 3 D...Well actually 4 D if I include the wetness in your pants. ***Giggles***
***Superb sound effects throughout the file***
Product Download
Queen-Of-Hearts-lzo3thvk.mp3
Reviews
Sunday, 26 February 2017
The Queen of Hearts remains a mystery! After several sessions with this file I still only have a vague idea what it is about. It is not that I am clueless – it is just that I remember pieces that do not match together – sometimes it is regular Hypnosis from Domina – some candle magic, sometimes a Gipsy sometimes a spy story. I feel relaxation and trust – like with many other recordings from Mistress but apart from that I have no idea of what she is up to with this file. Maybe part II gives a clue?
Sunday, 15 February 2015
i just awoke with a bit of pre-cum on my stomach totally relaxed and with only some blurry memories of the trance itself. i am releaved that i'm still in chastity for Domina. If She would not have been so nice to me on Valentine's day this would have definitely ended up in an accident. But anyway, whatever Domina Shelle did to me i know it helped me because i trust Her completely. After all i feel always good when She took me deep into Her world. So thank You my Domina for helping me even if i don't recall with what.
Saturday, 14 December 2013
Another wonderful experience from Domina Shelle. This has a really nice induction so it was easy to drop into that lovely hypnotic state. Once over I felt very satisfied and thankful. It sounds really nice, the trance is very deep, and She even helped fix me for the better; what could be better?
Wednesday, 11 December 2013
Domina Shelle solved a problem for me that I even noticed that I had it. Any addiction, fetish and suggestion will be wiped out from your mind by her. So, why do you not would trust her? She just want to let you free. In the end of file you will feel refreshed, relieved and great!
Tuesday, 10 December 2013
This file is a delicious piece of Princess' mind candy. It will be so sweet going down that nothing else matters. The only thing you will remember is how good it feels to obey and fall deep for Princess. You will want to listen to this one again and again and again...
Tuesday, 10 December 2013
This file took me into an amazing deep trance, I awoke feeling satisfied and pleasantly controlled.
Sunday, 08 December 2013
You must get this wonderful file and let our Princess help you, it's about Her sensual red lips... a candle flame... and... a lot of great stuff as well... Princess Shelle really is the Queen of our hearts. At least i think thats the message of the file. I guess. Well ok, I imagine it is, but it does sound true doesn't it ? And I feel great at the end of the file, so it's a good file, right ?
Sunday, 08 December 2013
This files feels a lot like No Recall, except that this time I know that Princess Shelle helped me get ride of unwanted programming ! How, who and why I don't know but I trust Her to know what is best for me ! Thank You for helping me Princess ! That felt fantastic !
Saturday, 07 December 2013
Thank You Domina for helping me with a problem i didn't knew i had, i always know i can put my trust in You completely. Domina Shelle is the best and always so helpful.
Saturday, 07 December 2013
This is my duty to recommend that file. Because I have come to the realisation the goal of my Domina is not that wicked. She only wants to get ride to evil suggestion implanted in my mind who force me to have an hypnotic fetish and submit to dominant woman. She helps me to be free of those hypnotic suggestion. I don't remember nothing but I know she did help me, because she told me she help me. And I trust my Domina. What happened during that session ? I don't remember, but I know this is for my own good. The only thing I remember is being helped by my Domina and a vague memory about a Queen of Heart. Queen of Heart, what that means ? A mysterious file to listen immediately, masterly created by the hand of the ultimate Mistress, my Domina.
Saturday, 07 December 2013
with almost nothing to remember i feel good and i loved the way it feels after listening and the satisfaction i get
Saturday, 07 December 2013
I can't really go into the contents of this file, but I enjoyed the heck out of it. I loved the induction, and I woke up feeling perfect. Thank You, Domina Shelle.
Saturday, 07 December 2013
This file is.... well... it helped me a lot.. i guess. And when i think back i know that... hm... maybe i should listen again, that will refresh my memory.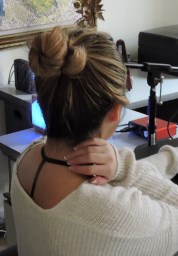 Get Updated