Sexy Latex
Shelle in pink latex...
Description
Unzip those pants and prepare for your SEXY Domina dressed in slippy, shiny pink latex...
Product Download
Shelle-Sexy-Latex.zip
Shelle-Sexy-Latex.zip
Reviews
Friday, 17 June 2016
Domina Shelle looks so very hot and sexy in pink latex. i can hardly contain myself just thinking about Domina in these pictures.
Friday, 26 February 2016
Owww.... How i wish i was a latex dress. Visuals like these and the velvet ones will without doubt haunt me in me dreams and tease the hell out of me..
Sunday, 20 December 2015
OMG i can hardly write this review as i only want to stare at the perfect beauty of my Dominas body wrapped in this thin pink latex. So arousing and so hot as the rubber snuggles tightly to Dominas curves and becomes Her second skin. With these photos a dream comes true as She combines my addiction for sexy figure with my strongest fetish: latex. Thank You my gorgeous Mistress-Owner for letting me buy You this outfit, for taking photos wearing it and for sharing them with Your slaves.
More reviews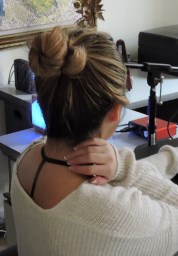 Get Updated