Shelle in Sexy Thigh Highs
My sexy thigh highs...
Description
Come here, take a look at MY sexy legs...would you want Me wrapped around your body, or maybe MY silky stocking feet sliding UP and DOWN your c**k.  This contains 5 NEVER before seen shots of your Princess in silky stockings.  Enough to make you c*m isn't it...kisses
Bet you can NOT resist stroking, can you?  If you want more of this set, just email Me...kisses MY horny pet...
Product Download
Shelle-Sexy-Thigh-Highs.zip
Shelle-Sexy-Thigh-Highs.zip
Reviews
Thursday, 26 January 2017
A good photoset which I took the liberty of emailing Mistress Shelle and recieved the extra. I can say if you're shy for whatever reason, it's worth the extra effort.
Thursday, 26 March 2015
Oh these sexy silky feet of my Domina chasing me in my dreams, so arousing and hot. i crave to feel their softness while i gaze at them on my knees. Although i do not dare to cum i cannot resist to stroke.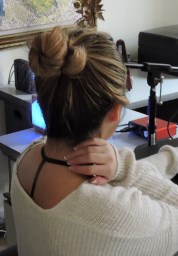 Get Updated