Slave dougie - Chapter 1
Unethical Therapist Exposed: Slave dougie - Chapter 1
Description
Unethical Therapist Exposed:  Slave dougie - Chapter 1
This first story finds your Unethical Therapist using Her wicked wiles to enslave an unsuspecting patient, who comes to Her for therapy, into a life of stimulating servitude to Her greedy demands.  The story takes some unexpected turns as new characters are introduced making for some very, very naughty listening.  you'll be surprised how far things can go when it's someone else's story.  And how easy to listen and live vicariously in the comfort of home, your car, out exercising, or going to sleep....with Me.
Product Download
Audio-Slave-Dougie-Chap-1-(c)ShelleRivers.mp3
Audio-Slave-Dougie-Chap-1-(c)ShelleRivers.mp3
Reviews
Monday, 13 November 2017
This was an amazing experience i am usualy no one who likes Audio Books, but this one read by my lovely Princess was a completly different experience to every Audio Book i tryed to listen to before, it started as an interesting experience of me watching in third Person how she get´s her way with a Slave called dougie, but oh so quickly this experience changed to a Point of view where i suddenly became slave dougie and experienced everything she did upfront as if she simply hypnotized me with her sweet soothing Voice, while not even trying to do so, kinda weird to think of it like this, but well in all honesty i am well aware about the Power she has over me, so i wasn´t surprised about this happening at all xD
Wednesday, 01 November 2017
This is a very arousing story that put me in a slight trance state as not only the protagonist in the story was taken deep down into trance, no also i was. Maybe i am too much conditioned by Domina Shelle but my mind started to fit into the story. i love the story and the perfect storytelling of my Domina.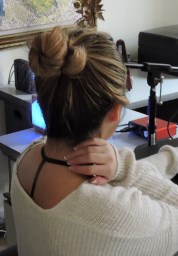 Get Updated