Subversion
POWERFUL Brainwashing and Mind Conditioning
Description
Level: Powerful
Length: 43 minutes
Category: Brainwashing-Mind Conditioning
Sample: LINK
Intense Adaptive Conditioning and BRAINWASHING through Subversion---your mind will adapt to My conditioning and you will become MINDLESS for Me--- My CONDITIONING will allow you a deeper level of submission and OBEDIENCE.
Having a mind is pointless---especially an empty one.  Just a VOID for Me to do with it whatever I want.  It is in your nature to TRUST Me and allow Me to empty your mind and then refill it....Maybe I will synchronize your thoughts with Mine.
Come to Me and RELAX into new depths of this transient state of mind.. immersed in a state of VACANT blissful sleep.
This file is 3D and if you love the metronome, you will love the effects in this file.
Reviews
Sunday, 15 October 2017
Why am I listening? What is strength? Is a strong mind under control of Domina still strong? - I try to follow the bombardment of questions – I try to answer but my thoughts start to swirl – I try to keep my thoughts but sometimes it is easier to agree – but why not agree if Domina is right – maybe I can answer the next question with my thoughts. But it is swirling more and more when the cloud of thoughts and questions dissolves in emptiness. And when everything is dark and empty Domina's Words are so clear – so true – no need to question anything no need to agree anymore. When I wake up the attributes "strong" and "weak" are not important anymore to me: "obedient" is the new "strong" and "obedient" is the new "weak".
Sunday, 12 March 2017
Being owned by Princess Shelle is the most w
Friday, 27 January 2017
Listening to this file relaxes you and moves you. It had a deep impact for me. It has brought butterflies to my stomach and I have to think about Pricess Shelle constantly. It is amazing what she is able to do with those files...
More reviews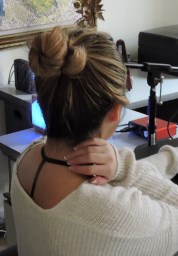 Get Updated