The Journey - Control Chip 5 (REMASTERED)
Stronger REMASTERED Version. The fifth step in your journey to becoming a perfect slave for Princess.
Description
Category: Journey to Enslavement
Level: Powerful
Length: 25 minutes
Stronger REMASTERED version -- Journey-Control Chip 5 - "Final Preparation"
Activate Control Chip---slave always obeys Princess/Domina Shelle.
You have chosen to continue this journey, and you must know by now that your life will never be the same.  You came to Me willingly, and now you are Mine.  I will show you the way, and you will follow and obey.  Sign the dotted line to your final destination.
If you have not yet listened to Journey To Enslavement levels 1-4 in this series...STOP!!!!  You MUST follow 1-2-3-4-5 for this journey...If you need one or more of the previous mp3s you will find them here.
Product Download
The-Journey-Control-Chip-5-REMASTERED-8neb5wi0.mp3
The-Journey-Control-Chip-5-REMASTERED-8neb5wi0.mp3
Reviews
Tuesday, 13 January 2015
Domina Shelle is worthy of worship and devotion. Her "Journey To Enslavement" has been a very rewarding experience for Her and i. Domina Shelle is becoming more deeply implanted into my being. i am happy that Domina Shelle would consider becoming my owner :)
Tuesday, 23 December 2014
This was an emotional rollercoaster ride for me. Torn between feelings of complete joy, arousal, excitement, ect. Domina Shelle offers us one last chance to get out. I didn't even consider it. I feel so different now, so happy to be so closer to Domina Shelle. And I cant wait to be drawn in even closer to Her. No where on Earth I'd rather be. I'm so glad I made the choice to follow this path. I think it was me anyway =)
Friday, 10 October 2014
This is the next step to be a perfect slave for my Domina Shelle. Although She gave me again the chance to stop the enslavement, i continued in joyful anticipation of my future life. i'm very happy to started the journey in the first place. And i'm longing to be hopefully formally owned by my Domina soon. Thank You my Domina for this wonderful journey to serve You even better.
More reviews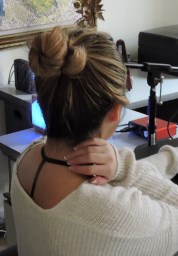 Get Updated