Triggered HARD
Enjoy the pleasure of My voice. Feel yourself growing HARD and so suggestible to My instructions...
Description
Length: 23 minutes
Time for you to becum very AROUSED and HARD as your Domina implants a TRIGGER into your subconscious mind...Giggles..and your conscious mind won't even know what is happening.  My excited pet don't fight it, your Domina knows what you crave and yearn for.
My Good Boy, I know how you long for My sweet control!  you realize that a single listen of TRIGGERED HARD won't be enough, you will crave to listen over and over again.  your mind will be filled with thoughts of serving Me, sexy thoughts...as I invade your mind with erotic TRIGGERS that will leave you hard and dripping in prec*m ...not to mention aching blue balls.  Know how much your Domina loves having you aroused, hard and HORNY all the time with a swollen c*ck, guaranteed!
So, My pet, lay back and let My powerful binaural take you deep, let My sweet voice capture your helpless mind ...as My triggers sink deep into your mind.  Accept your place as My HORNY and AROUSED enslaved pet and LISTEN to TRIGGERED HARD.
NOTE:  In order to experience the full and lasting effect of these triggers you should listen at least once a day for 21 days.
Product Download
Triggered-HARD-(c)ShelleRivers.mp3
Triggered-HARD-(c)ShelleRivers.mp3
Reviews
Sunday, 24 June 2018
21 days is a strong commitment! But it is worth it. Triggered Hard is soft bombardment of sweet cotton ball words that begin to dominate by toughs after 5 days already. So cozy and sweet it is a pleasure to listen again and again. After 15 days I feel helpless as I need to think of Domina every 30 minutes. Her Triggers are everywhere. Straight forward, simple and effective brainwashing. For me just 6 days to go – 6 more days and I am sure my mind will completely crush under the soft attacks.
Tuesday, 11 July 2017
If you're new to Domina's sessi.

There is no sophisticated idea or scenario in this file, yet implanted suggestions will affect basically every future session.

The sound effects are awesome. Mistress's voice is sweet and relaxing. So if you're an experienced listener and currently desire not a fairytale, but some basic training – this session is for You.

Tuesday, 18 April 2017
i love when Domina whispers so sexy words to my ear. i get so hard and horny for Her. Eager to please.
More reviews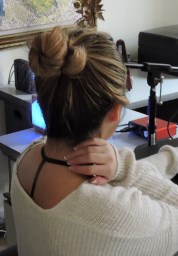 Get Updated