Wet Dreams
I want to be your next WET DREAM--I want to control your mind with the most erotic of My thoughts.
Description
Category: Mind Control-Erotic
Length: 35 minutes + 9 min Loop file
Level: Hard
Have you ever had a wet dream?  Remember what that felt like?  Let Me share with you about one of my wet dreams.
I was lying in bed, but in a strange room.  There were several people sitting or laying on the bed, watching TV.  I was dressed in a sexy pink silky night shirt, the top 3 buttons open, showing My succulent cleavage...My panties a matching PINK lace thong.  Everyone else was dressed in everyday clothes.  As I was lying there quietly, I felt a warmness move up My legs and then between My inner thighs...I felt a soft touch against My panties, a slight massaging and teasing...then I felt My panties being pulled to the side, I could feel a hot moistness like never before.
I was frozen, wet and a little afraid.  Maybe My fear was that someone would see what was happening.  I tried to speak, but there were no words.  I could feel My breathing increase, then fingers slipping and sliding up and down My moist slit, I was so HOT.  I wanted more...I needed more...I craved to be filled up.  Then it happened, I could feel fingers spreading My lips, pushing inside moving in and out...OMG, My orgasm began and seemed to last forever.  As I finally caught My breath I was paralyzed, unable to move, I did not want it to stop.  I wanted MORE!
....Do you want more?  Just wait until you listen to this file.  Maybe you will share your Wet Dreams with ME...Are you HARD, are you HORNY...This is just the beginning.
Powerful Binaural effects---Caution---May cause Sleep Paralysis and Permanent Wet Dreams.
Main file - Must be listened to at least 3 times.
Free Loop file - Perfect for daily session - Must be listened to daily for 21 days.
Product Download
Wet-Dreams-Loop-lsn7ck3h-(c)ShelleRivers.mp3
Wet-Dreams-Loop-lsn7ck3h-(c)ShelleRivers.mp3
Wet-Dreams-95rmebzg-(c)ShelleRivers.mp3
Wet-Dreams-95rmebzg-(c)ShelleRivers.mp3
Reviews
Tuesday, 22 November 2016
i usually wait a few days and a few times listening to a file before i offer any review. no need to wait with this one. i dont remember much about the file as i was under and gone within a few minutes. however the effects are real. after the first time listening i had the most amazingly lucid dream c**ing so strongly. though not a wet dream when i awoke i remained horny and hard through the night. Looking forward to trying this again tonight.
Monday, 28 September 2015
I'm lucky enough to have had many amazing dreams of my Domina thanks to having Her on my mind constantly, so a file that could potentially give me even more of those experiences is an automatic gift in brainwashing. This file has a quality to it that a top few of Domina Shelle's have, where I could easily listen to it practically every night if I wanted to spoil myself that much, since it feels endlessly enjoyable to fall so extremely deep to. It's powerfully hypnotic and makes me feel unusually entranced to the point where I could barely remember most of it until many listens later.
Friday, 14 August 2015
This is literally a dream come true for me. I dream of our Princess all the time, but to have wet dreams of Her and to have Her take such powerful control of my sleeping mind. To have such a vivid dream of Her. To have Her, dare I say, come to me as a succubus? Oh my!! What more could a little slave want???
More reviews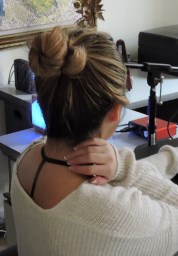 Get Updated