Wet Dreams
I want to be your next WET DREAM--I want to control your mind with the most erotic of My thoughts.
Description
Category: Mind Control-Erotic
Length: 35 minutes + 9 min Loop file
Level: Hard
Have you ever had a wet dream?  Remember what that felt like?  Let Me share with you about one of my wet dreams.
I was lying in bed, but in a strange room.  There were several people sitting or laying on the bed, watching TV.  I was dressed in a sexy pink silky night shirt, the top 3 buttons open, showing My succulent cleavage...My panties a matching PINK lace thong.  Everyone else was dressed in everyday clothes.  As I was lying there quietly, I felt a warmness move up My legs and then between My inner thighs...I felt a soft touch against My panties, a slight massaging and teasing...then I felt My panties being pulled to the side, I could feel a hot moistness like never before.
I was frozen, wet and a little afraid.  Maybe My fear was that someone would see what was happening.  I tried to speak, but there were no words.  I could feel My breathing increase, then fingers slipping and sliding up and down My moist slit, I was so HOT.  I wanted more...I needed more...I craved to be filled up.  Then it happened, I could feel fingers spreading My lips, pushing inside moving in and out...OMG, My orgasm began and seemed to last forever.  As I finally caught My breath I was paralyzed, unable to move, I did not want it to stop.  I wanted MORE!
....Do you want more?  Just wait until you listen to this file.  Maybe you will share your Wet Dreams with ME...Are you HARD, are you HORNY...This is just the beginning.
Powerful Binaural effects---Caution---May cause Sleep Paralysis and Permanent Wet Dreams.
Main file - Must be listened to at least 3 times.
Free Loop file - Perfect for daily session - Must be listened to daily for 21 days.
Product Download
Wet-Dreams-Loop-lsn7ck3h-(c)ShelleRivers.mp3
Wet-Dreams-Loop-lsn7ck3h-(c)ShelleRivers.mp3
Wet-Dreams-95rmebzg-(c)ShelleRivers.mp3
Wet-Dreams-95rmebzg-(c)ShelleRivers.mp3
Reviews
Tuesday, 22 November 2016
i usually wait a few days and a few times listening to a file before i offer any review. no need to wait with this one. i dont remember much about the file as i was under and gone within a few minutes. however the effects are real. after the first time listening i had the most amazingly lucid dream c**ing so strongly. though not a wet dream when i awoke i remained horny and hard through the night. Looking forward to trying this again tonight.
Monday, 28 September 2015
I'm lucky enough to have had many amazing dreams of my Domina thanks to having Her on my mind constantly, so a file that could potentially give me even more of those experiences is an automatic gift in brainwashing. This file has a quality to it that a top few of Domina Shelle's have, where I could easily listen to it practically every night if I wanted to spoil myself that much, since it feels endlessly enjoyable to fall so extremely deep to. It's powerfully hypnotic and makes me feel unusually entranced to the point where I could barely remember most of it until many listens later.
Friday, 14 August 2015
This is literally a dream come true for me. I dream of our Princess all the time, but to have wet dreams of Her and to have Her take such powerful control of my sleeping mind. To have such a vivid dream of Her. To have Her, dare I say, come to me as a succubus? Oh my!! What more could a little slave want???
Tuesday, 11 August 2015
This recording is a pure artistique erotic file. What I mean by that is when I listen to it, I am moved as I would listen to a beautiful piece of music, but at the same time aroused and a little horny by the sensuality of my Domina. To my ears, the voice of my Domina is already beautiful music, a siren song filled with harmony. This file is a window to another world, a world of dreams and passion. Where fantasy is all that remains, and where my Domina is ruling supreme. She is sexy, she is hypnotic, she is dominant and a little wicked too. If you love recordings from Domina Shelle (it is impossible to fall in love with her the moment you hear her voice), you will love this one, because she use all her skills at her best to put her work to a whole new level. This is a must. Oh and I almost forget, it might cause wet dreams too.
Monday, 10 August 2015
i don't think this file is for anyone, it's so powerful and potent and it may cause real sleep paralysis!, but i trust my Domina and i loved the file and it's effect
Monday, 10 August 2015
While this session shares elements with Mind Numbing Sleep, the focus of it is quite different. It's FANTASTIC! If Domina Shelle's description piqued your interest (or aroused you) at all, then jump right in, and I'm certain that you will enjoy it. Domina Shelle wants to control your dreams, and that's an idea that I can get behind. While the file is very arousing, it does lead the listener into sleep, and thus doesn't have an awakener (so set an alarm if need be?).
Sunday, 09 August 2015
Hmm. I've never had a real wet dream that would have caused me to cum. So it's interesting to see if repeated listening of this will cause it. The file is relaxing but also teasing. I felt sleepy after this so best to listen right before going to sleep.
Saturday, 08 August 2015
Domina Shelle's Wet Dreams will change your sleeping experience erotic playground of passion, joy and submission.

After listening to the file for the first night, it had amazing dreams waking up fully erect hard and wet. If you don't already sleep naked. it would recommend you start.

The file is a perfect companion file to Domina's recent Lock file and/or chastity files.
Friday, 07 August 2015
i want to loose all control to Domina and there is no pleasurable experience then having a wet dream of my beloved Domina. Even before She released this file i was able to have two by now. One of them was so intensive that i my moans woke me up as i did cum for Her. Sadly my weak mind forget the content of the dreams as i was too much trapped in my own pleasure. But the chance to have a wet dream of Her every night is so arousing, even though i fear what this for my chastity means i crave to have these dreams. So far i didn't had another one but only after two times of listening i am so horny and only thinking of my beautiful hot Domina being so close to me every time i awake. i am giving into this and i cannot wait to listen over and over. And be careful if you have important things to do after listening, you might be trapped in a paralyzed sleep, just like i was unable to open my eyes or to move for quite a while. But it's perfect to listen when you go to sleep as you will sleep deeply and have hot dreams of O/our sexy Domina-Princess.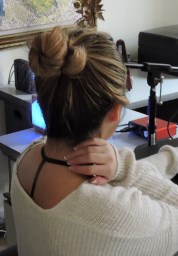 Get Updated