Worship - Kneel at My Feet
There you are under My feet, under My power, under My control. The accompanying arousal is compulsive...
Description
Length: 37 minutes
This MP3 includes EXTREME Hypno-Enslavement, mind and body FUCKERY.
I am going to hypnotize you...you are going to kneel and serve Me...you will be hard and horny. your c*ck will be engorged and dripping.  Take off your clothes and prepare for a MIND FUCK, one you have dreamed of for a long time now.
Accept your place on your hands and knees at the feet of your Goddess.  Serving Me.  Naked, HORNY and mindless as you find yourself where you have always wanted to be...kneeling, hard...so swollen, and waiting for your next command.  A slave's place is at the feet of his Domina.  Imagine what it would be like, your kneeling, My sexy legs open...your c*ck hard and dripping.
Feel the power of My voice as you submit to your powerful DOMINANT Woman.  Accept your place, feed your hunger to serve your Domina.  Listen now in complete OBEDIENCE!
Product Download
Worship-Kneel-at-My-Feet-(c)ShelleRivers.mp3
Worship-Kneel-at-My-Feet-(c)ShelleRivers.mp3
Reviews
Thursday, 29 June 2017
Wow! Under her fet where I belong. It is the ultimate experience!
Sunday, 18 June 2017
What makes a moment the perfect moment? - The right place! The right company! And the quality time we spend together! This file is my perfect moment. Under Her is the right place and Dominas feet are perfect company the enjoy the simple pleasures of life. Worshiping Her Toes is my perfect moment. May it last forever!
Thursday, 08 June 2017
Very erotic fantasy of kneeling in front of Domina and serving Her feet. That sound effect which went from left to right combined with Domina voice moving from one ear to another at different speed was interesting. i don't remember experiencing that technique before. It had dizzying effect at least for me. i guess that means it worked.
More reviews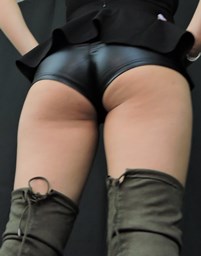 Get Updated