Brain Fried
An erotic and sensual experience...But, with a little twist of fate...
Description
Category: Chastity-Brainwash-Mind Control
Length: 40 minutes
What is your deepest fantasy about your Domina?  An intimate night with Me alone, naked and compliant, as you allow Me to hypnotize you, having My wicked way with your mind and body?
Well My sweet, I have a secret to share with you that will bring us even closer together.  To share this most intimate and sexy desire with you I need you to totally trust Me, allowing My hypnotic whispers and seductive touch to gently caress your body to the point were you are utterly mindless and aroused beyond anything you have experienced before.  At this point, when you are pliable and under My complete control, I will share my personal fantasy with you!
This revelation will fundamentally change your life and the very nature of O/our relationship.  It may be so HOT and make you so HORNY that it may just fry your blank submissive brain (Giggles).
Be assured and warned My baby that after this session you will be bound to Me so tightly, so consumed with desire, that you will understand what total obedience truly is.  you will love every exquisite moment...
Product Download
Brain-Fried-(c)ShelleRivers.mp3
Brain-Fried-(c)ShelleRivers.mp3
Reviews
Friday, 22 September 2017
This might be one of the most accurate titles for any of Domina Shelle's recordings. Listening to this file most definitely fried my brain! *giggles* This is an intense chastity experience in a most sensual hypnotic experience. Do take Domina Shelle's warning in the description seriously, after listening you will bound to her in a most strict way!
Tuesday, 19 September 2017
It's as if Domina read my deepest fantasy and made a file just for me. I don't want to go too far into the story, or fantasy of the file. But if you dream of putting Dominas needs and pleasure before yours completely, you WILL love this file. I cant still feel the excitement and arousal I felt while in trance. It's unbelievable. 500 stars for this file! my Domina is a true artist
Wednesday, 13 September 2017
Three times i did listen and every time i did pass out. This is how deep Domina's enchanting voice takes me. Though my subconscious does probably know the whole content i cannot recall all of it here to write about it ... giggles... this makes it somehow hard to write review. Nevertheless i can recall parts of it including suggestions of ultimate chastity. It is a strong file i can say for sure as i feel more submissive and more arousal for my beloved Owner with every listen.
More reviews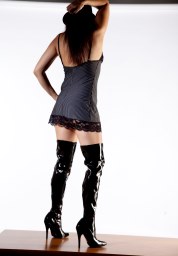 Get Updated