Slave Puppy Play
Written by

shelle Rivers

Hits: 17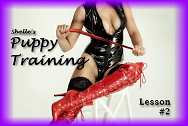 Part 2 now released...slave PUPPY TRAINING 102
My puppy, you are doing so well with your PART 1 of puppy Obedience Training.  How much sexy fun, you, on all fours, Me, playing with that hard thing between your legs....and you are doing all the tricks and coming to My feet for your reward.
With this week's training file, your Mistress gives Her puppy the rewards of being My good boy.  See what I have in store for My little puppy slave. ~giggles~  I'll take you into a light trance, I want you to experience and remember everything in your conscious mind.  With Mindlessness and Sexual Psychosis I was deep into controlling your subconscious and having you reach Mind orgasms.  Now you submit to My arousing control over your physical body.  Mind and body.....obsession, addiction, submission.....all with the heightened pleasure of obedience.
If you don't have PART 1, now is your chance to get the full experience in obedience.
ASSIGNMENT
This assignment is part of your obedience training.  Are you doing your Obedience/saving assignment, My pet?  Four weeks keeping track of anything can be difficult.  But that's one reason I've given you this assignment.  It's meant to reinforce connections between U/us that come easily when you listen to My files.  And I want you to carry them over to your everyday life.  Then I can see you are obedient and are thinking of Me throughout your day.. And when I see your email, I think of you serving Me as I want to be served.  I want you eager to please Me, with your puppy files and these assignments.  That strengthens O/our bonds, My control and your submission which intensifies all your sensations.  I'm loving what you are doing with this assignment, seeing your obedience and service to your Domina /Owner in action.  your Obedience IS Pleasure, My puppy.
NEXT WEEK
Next week is dedicated to Halloween...I will be having ghostly tales to keep you on edge. (AND/OR) I will have a new SURPRISE file.  There will be plenty of Special Deals on Halloween, monster, ghostly, scary themes.
But more important than Halloween, is Lady Helena's birthday on the 25th.  Let's make this special...So, here is your opportunity to do something nice for My slave girl -- Lady H's Birthday.  I also give you permission to take a look at Lady H's new RELEASES as I let Her take charge of you.....
My special deals have changed...
Brainwashed Phase II Series --
The Brainwashed Phase II Series: Steps 1-9.
Brainwashed Phase I Series --
The complete Brainwashed Phase I Series--Programmed 1-9.
Fantasy House Door #3 - Puppy Training --
your first taste of a new level of training as my little puppy pet...
Collared Parts 1 & 2 --
Feel My COLLAR and lose all CONTROL.  Enjoy the ceremony and the collision between reality and fantasy.  Buy both of My Collared, Parts 1 & 2 together for a package price!
Sweet Femdom Erotic Hypnosis--Brainwashing and Mind Control
Written by

Administrator

Hits: 9832
Come sample My titillating, hypnotic Videos.

Erotic Hypnosis
Welcome to Shelle Rivers Hypnotica, the place to submit to Me.  You will love surrendering to My Erotic Hypnosis.  I discovered My desire and ability to control those around Me in my early teens.  Erotic Hypnosis has allowed Me to take my Control to the next level.
You will be Mine, and I will guide you wherever I choose.
Femdom Hypnosis
Female Domination by a young Princess.  New submissives are always surprised by the power of My sweet and gentle Voice, and how quickly they become addicted to my MP3 recordings, live phone sessions and now even My personal communication exchanges.
I will slip in under your radar, softly and subtly replacing your thoughts with My words and My programming.
Hypnotic Shelle Rivers
I am a certified hypnotist.  I am sweet, sassy and sexy and sometimes firm and hard.
My area of erotic hypnosis expertise is known as "soft domme", which means that I want to enjoy the experience with you, not at your expense--well of course it is partly at your expense!  But I am expert with all forms of Erotic Hypnosis.
Submit to My Stimulating Domination
You will quickly find out how much I enjoy what I do---from my laughter (sometimes giggles), to my willingness to spend time getting to know you, your needs and desires.  Erotic hypnosis must be fun for Me, or I will simply go and do something else that is.
I hope you will join Me on this ride. I will hypnotically own you, your body and mind.  But, you can trust Me, W/we will both enjoy the experience and the journey together.

Shelle Rivers


Click and Vote daily for your Princess!




Top Money Dommes

Dominant-Woman .com
female domination sites including: trampling & smothering, strapons, ballbusting, foot worship, spanking and more..




Hypnosis & Femdom Links

Inraptured
DESCENT Hypnosis
WarpMyMind


Get Updated