Erotic Hibernation
Written by

shelle Rivers

Hits: 8

December is a favorite time of year. Welcome to a happy and arousing time I have planned for December. you want to obsess on your Domina and I will feed your addiction by expanding My control beyond the sessions you trance with Me. Going deep into a state of euphoric bliss, you become who I want you to be, your true self....This is the best part of your week.....perfectly submissive and obedient, My slave who loves and adores Me. you want to live to please and serve your Domina.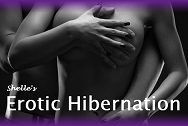 I have put together a file session and an assignment for you, My puppy. This week I have prepared EROTIC HIBERNATION, taking you deep into trance and pressing you closer and closer so you can feel My body hard, against yours. My words grip so tightly around your already weak, vulnerable mind. All that matters is surrendering complete control of your arousal and pleasure, memories and fantasies, body and stroking. Becoming more and more suggestible and submissive, you trust Me to know what's best, because you belong to Me now and forever.
STROKE CONTROL ASSIGNMENT
With this Stroke Control Assignment you continue to live out your desires into your conscious day. Satisfy your need to please and obey your Domina beyond O/our Hypnotic sessions. Experience what I want.....your need for My orgasm control and permission to release. you will spend this Sunday, Dec. 4th until bedtime, following My special instructions, beginning the moment you wake up in bed. So wake up knowing your instruction.
CHRISTMAS AND UPDATES
There's nothing better than receiving early Christmas presents. I want to be very practical this year if you have any thoughts for Christmas giving. With My website going down and some unexpected expenses and setbacks, I want to concentrate more on paying off My student loan debt, which will be a great financial relief and give My life more flexibility. My CHALLENGE TO PLEASE is a good way to do that. For December, Tip Me Tuesday and buying lunch for My weekend shifts at the hospital would be an appreciated gesture of support. Thank you for your past generosity, you are so good to Me....and Santa Shelle may have something special for you, if you have been My good boy.
Updates: I have resubmitted information to get VISA credit approval for Lady Helena's new website and am awaiting that approval. In the meantime, you can always feel free to make an appointment with Lady H., or ask Me to send you to Her. you can trust She will know exactly what to do with you. ~giggles~ I have trained her very well.
SEEKING ASSISTANCE
I am looking for help with setting up visuals for a YouTube File I want to post as a video. If you have the technical skills to do that for Me and time to be of service, email Me with "Visual helper" in the subject line and win My gratitude.
NEXT WEEK
Next week will be a special week to remember. An extremely hot, sexy brainwashing file with a long intoxicating induction. A perfect file to listen to before your Stroking climax with the C*ck Control Stroking Contest, something I am REALLY looking forward to. I know you are, too!!! I experiment with controlling your mind in trance. Now I experiment with your c*ck and fantasies. I tease and play with you. Make you feel owned and take control of your arousal, your hardness, your pleasure.
I allow you to please Me and give you permission to C*m for Me (or offer your orgasm denial). Intensify your submission and obedience to My DIRECT c*ck control. To win the contest and My special attention, you will have to resist My provocations and stroke for as long as you can with as many strokes you can sustain.
Special stroking contest rules will be in place for My Chastity slave.
special deals this week ~~~
Remote Control --
Can you imagine falling deeper into MY MOST WICKED CONTROL?
Siren---Deepest Desire --
Come to ME! Listen to MY sexy BEAUTIFUL voice.....But know there is NO escaping your DEEPEST DESIRE, when your Siren calls!
Mind Eraser--SUCKED DRY --
Mind Eraser_SUCKED DRY_Zombied Part 2--Completely Blank and Obedient.

I wonder are those SUBLIMINAL messages working...what files have them, what files don't...It's a BLIND test. ~~~LAUGHING~~~
PS. Lady H is busy moving into her new house...some rumors have it, something about a DUNGEON. ~Giggles~ Is that why she loves that basement so much. Hummmm!!!! Anyway, she will not have internet until Sunday. The cable company needs to run lines to the house. So, she wants you to know that she will get back to your emails as soon as she has internet. She said something about, 3 ice cubes and nipple clamps for 5 minutes on both nipples. Does that mean anything to you, giggles! Surrender IC.
Sweet Femdom Erotic Hypnosis - Brainwashing and Mind Control
Written by

Administrator

Hits: 10168
Come sample My titillating, hypnotic Videos.

Erotic Hypnosis
Welcome to Shelle Rivers Hypnotica, the place to submit to Me.  You will love surrendering to My Erotic Hypnosis.  I discovered My desire and ability to control those around Me in my early teens.  Erotic Hypnosis has allowed Me to take my Control to the next level.
You will be Mine, and I will guide you wherever I choose.
Femdom Hypnosis
Female Domination by a young Princess.  New submissives are always surprised by the power of My sweet and gentle Voice, and how quickly they become addicted to my MP3 recordings, live phone sessions and now even My personal communication exchanges.
I will slip in under your radar, softly and subtly replacing your thoughts with My words and My programming.
Hypnotic Shelle Rivers
I am a certified hypnotist.  I am sweet, sassy and sexy and sometimes firm and hard.
My area of erotic hypnosis expertise is known as "soft domme", which means that I want to enjoy the experience with you, not at your expense--well of course it is partly at your expense!  But I am expert with all forms of Erotic Hypnosis.
Submit to My Stimulating Domination
You will quickly find out how much I enjoy what I do---from my laughter (sometimes giggles), to my willingness to spend time getting to know you, your needs and desires.  Erotic hypnosis must be fun for Me, or I will simply go and do something else that is.
I hope you will join Me on this ride. I will hypnotically own you, your body and mind.  But, you can trust Me, W/we will both enjoy the experience and the journey together.

Shelle Rivers


Click and Vote daily for your Princess!



Dominant-Woman .com
female domination sites including: trampling & smothering, strapons, ballbusting, foot worship, spanking and more..




Hypnosis & Femdom Links

Inraptured
DESCENT Hypnosis
WarpMyMind


Get Updated