Erotic Hypnosis MP3s by Hypnodomme Shelle Rivers
HYPNOTIZED and SUBLIMINIZED
Written by

shelle Rivers

Hits: 83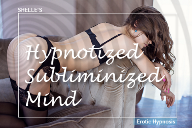 Falling and drifting deeply into trance with MY NEW Mindlessly Hypnotized session, Hypnotized-SUBLIMINIZED Mind is the ultimate surrender.  Do SUBLIMINAL messages really work...let's find out.  This session is a MASTERPIECE...I used 3d effects like NEVER before.  NO one will resist My power.  Put yourself in My sensual HYPNOTIC hands and give your Princess your complete submission and obedience.  you are hypnotized by My voice as I take you into a MINDLESS state of being...just being.
This session is your COMPULSION...you will be COMATOSE.  Listen and experience a SUBLIMINIZED MIND.  I PROMISE you will listen to this session over and OVER.
After you listen to this week's session and you are not Contracted, but you have a craving for My suggestions, here is a suggestion you need to obey. If you want to get closer to Me, email Me with "questionnaire" in the heading and ask for My slave questionnaire.  It's just a baby step.  Who knows where it might lead.  The more you fight Me, the weaker you become.  Remember, lust is more satisfying when you cum to love your Princess.
UPDATE
Thursday, the 15th of November, is a big day this month.  I will send an invoice for your first bill paying contribution to My VOLUNTEER Assignment, due the 15th.  Something I am so pleased about.  I am giving you Permission to C*m with the choice of WORSHIP-Kneel at My Feet or DOMINANCE-A Hypnotic Brainwashing.  If not a VOLUNTEER slave, I expect your TRIBUTE for allowing your orgasm.  Chastity slave you may use a session with the option of denying orgasm.  Never too late to be My Volunteer.
The New Website is taking a little longer than expected to be completed and open for business.  It's worth the wait.  I have put together a very special session that I will be recording soon for the Grand Opening.  Don't forget My Challenge To PLEASE.  I always appreciate your love and support.
I am PLEASED with your Reform School assignments.  I've enjoyed reading your responses and I am using them to prepare your lesson plan for Class #5 later this month.
NEXT WEEK
Think DARK....soft soothing darkness.... ~giggles~
My special deals ...
Erotic Hypnosis MP3s - Brainwashing and Mind Control
Written by

Administrator

Hits: 14496
Come sample My titillating, hypnotic Videos.

Erotic Hypnosis
Welcome to Shelle Rivers Hypnotica, the place to submit to Me.  You will love surrendering to My Erotic Hypnosis.  I discovered My desire and ability to control those around Me in my early teens.  Erotic Hypnosis has allowed Me to take my Control to the next level.
You will be Mine, and I will guide you wherever I choose.
Femdom Hypnosis
Female Domination by a young Princess.  New submissives are always surprised by the power of My sweet and gentle Voice, and how quickly they become addicted to my MP3 recordings, live phone sessions and now even My personal communication exchanges.
I will slip in under your radar, softly and subtly replacing your thoughts with My words and My programming.
Hypnodomme Shelle Rivers
I am a certified hypnotist.  I am sweet, sassy and sexy and sometimes firm and hard.
My area of erotic hypnosis expertise is known as "soft domme", which means that I want to enjoy the experience with you, not at your expense--well of course it is partly at your expense!  But I am expert with all forms of Erotic Hypnosis and Brainwashing.
Submit to My Stimulating Domination
You will quickly find out how much I enjoy what I do---from my laughter (sometimes giggles), to my willingness to spend time getting to know you, your needs and desires.  Erotic hypnosis must be fun for Me, or I will simply go and do something else that is.
I hope you will join Me on this ride. I will hypnotically own you, your body and mind.  But, you can trust Me, W/we will both enjoy the experience and the journey together.

Shelle Rivers


Click and Vote daily for your Domina!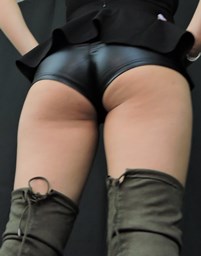 Get Updated