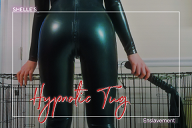 My lil subject, it's so sexy when your beautiful submissive mind, always weak and open to all My suggestions, is the focus of attention. Just the sound of My soothing, calming voice pulls you deeper for Me, deeper into My most EROTIC control. My words become your thoughts. you no longer have to decide or think...I make decisions for you, I think for you. But, sometimes, maybe on rare occasions, I allow you to have a mind of your own, for a moment at least.
Well, My sleepy subject, this week, with Hypnotic Tug, I'm going to hypnotize you and test your submission. Will you be submissive and obedient or will you rationalize and do what you want? Do you truly believe that only Domina knows what's best for you?
Or will you give in to temptation and decide for yourself?... The test will be played out between Good Domina and NAUGHTY Domina. My sweet, I will use your arousal against you, in a very sexy way.
Go Now and download, listen, submit, obey, decide and let's see if you passed My test as My true submissive.
UPDATES: I'll be dropping off the first of the Xmas gifts to O/our adopted family on Monday. Thank you for your love and support, you never cease to amaze Me...I am PLEASED!!! 'Tis the season for GIVING!
I'll be driving back to Tenn soon, I'll need to see My sister before Christmas. I need a driver!
Guess what the emergency was this week? Haha! My sister (living in Greensboro) broke her ankle Wednesday night!
Challenge to Please: We shall continue GIVING! It makes Me happy to see how much love you have in your heart! THANK YOU for being Mine!
Be sure to check out the special deals:
Lost in My Mist --
My purple mist is a pleasure you will wish to savor again and again...
Hypnotic Bliss --
I take you, Dominate you and intoxicate you with a carnal desire to submit and obey.
Endless Abyss --
you are My pet, My property, and you'll remain permanently enslaved in the Abyss.