Addiction Therapy
She is a SPECIALIST in the field of ADDICTION...
Description
Category: Erotic Enslavement-Addiction Fetish
Length: 48 minutes
A little therapy never hurt anyone.  Especially when your therapist is so sexy and always knows the needs of Her patient.  She has insight and a direct connection to your subconscious mind.
you will find yourself easily transported to Her white leather couch...too deep to resist even if you tried.
She is a SPECIALIST in the field of addiction.  So you can trust that She knows what She is doing.
When She gets done with you...your addiction will be perfected. Giggles!  That is what She does.
Does it matter what the addiction is...does it matter that you will find yourself on your knees and at Her sexy NYLON covered legs.  Does the idea of slippery silky sexy nylons against your c*ck and balls intrigue you.
Listen and feel the absolute control of your Domina Shelle as She leads you into EXTREME ecstasy and desire.
you will feel how a little REPETITION is the law of HYPNOSIS.  The beginning of the INDUCTION, you will find familiar...this is by design.
Subliminal messages, binaural, and EXTREME INDUCTION.
Product Download
Addiction-Therapy-(c)ShelleRivers.mp3
Addiction-Therapy-(c)ShelleRivers.mp3
Reviews
Sunday, 19 November 2017
i think all of the therapy sessions are amazing. The fantasy of a hypnotherapist using Her skills in an unconventional – maybe unethical way by bringing me under Her spell is what thrilled my in erotic hypnosis in the first place. But especially the dynamic of trust and power the therapist and patient relation is very precious to me: For Domina i want to be like an ideal patient - 100% trusting Her! Whatever she asks me i want to answer truthful, my mind shall be an open book. And everything she wants me to take in i will take without question: Her words, Her pills, Her potions, when she says "swallow" i will swallow. Addiction Therapy: i do not remember what exactly happened his time, but i remember that i was quite focused on Her nylons and legs and that i felt wonderful after the session! I do not need a second opinion! Highly recommended!
Thursday, 26 October 2017
I love the sessions on the white leather couch. Domina took me deep deep deep and then I was horny horny horny. My place IS at HER feet!
Monday, 23 October 2017
This is a w
More reviews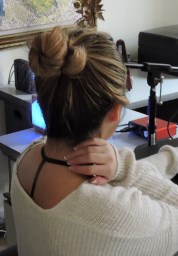 Get Updated