Blind Dominance
your subliminal mind will be overdosed with brainwashing. I will toy with your lust and leave you feeding off of My control....
Description
Session Length: 43 minutes
Breath deeply and allow your mind to MELT along with My words.  The moment you began listening to Me, you willingly gave Me the key to your mind.  How often have you imagined My dominating you in your everyday life?  I know how much your c*ck swells at the thought of My voice.  Now it's time for you to obey and take a sensual journey with your Domina.  There's no way to resist, the spell has already begun.  you've allowed Me to slip under your radar and now My words have begun changing your thoughts and desires to My own.  Do you feel that pet?  It's called surrender... now come embrace it... give into your sexual yearnings...give in, NOW!
your mind is now prey for My INTOXICATING control.  My deviously INTENSE and VIVID erotic HYPNOTIC story will leave you in a state of docile helplessness to Me.  your subliminal mind will be overdosed with brainwashing leading you to disassociate with the outside world.  you will be lead away into a world where I manipulate your sexual desires at My whim.  I toy with your lust and leave you feeding off of My control.  you will feel like a leech for My sexual appetite.  Be careful or I just may devour you... mind and body.
Oh, how I love to experiment with your weak pliable mind.  Overloading your brain with My sensual mind-controlling techniques.  Leaving you without the chance to tell what happened.  you will find it so easy to follow My brainwashing.  Experience this mind melting session that will leave you deeply hypnotized and sexually enraptured to Me.
Product Download
Blind-Dominance-(c)ShelleRivers.mp3
Blind-Dominance-(c)ShelleRivers.mp3
Reviews
Sunday, 10 September 2017
Will I meet her? Will Domina finally be revealed? This thought, this question is so a strong, that I always start daydreaming about her when the recording starts. Each time it is a new place – always a new chance. But somehow Domina tricks me every time and i end up tranced and dominated with a desire to listen again. I do not know what she does in this recording after the long induction. So far my day-dreams always prevented me from listening to Her – but it is Shelle – it cannot be that bad after all, can it? I recommend this for advanced listeners only – it is best to be already deep in love with your Domina before.
Thursday, 07 September 2017
Not really sure how much to say here, but this file is powerful, sexy as hell, and features some wonderful quality time with Domina Shelle. After the file ended, i was left floating on cloud 9 for a while before i could bring myself to move again, and flooded with love and appreciation for Princess Shelle.
Sunday, 03 September 2017
No spoilers. Let me just say that Domina Shelle begins by emptying our minds, making sure that we Focus only what She has to say. As we are deep into Her trance, Her Words become accepted Truths and Reality to our now defenseless and submissive minds.
More reviews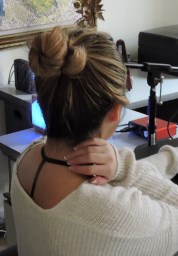 Get Updated