SUBLIMINAL STIMULUS
I like starting each New Year with a HUGE BANG and this week's powerful session Subliminized gives you the mind f*cking you love, as I sink you into a profound trance...... every instruction buried deep in your subconscious and not likely to seep into your conscious mind....But you have been so conditioned to alter your thinking and behavior and crave My triggers that lead deeper into your enslavement...It won't matter to remember because you will consciously act on My programming....My sweetheart, you are going to LOVE Me for this session.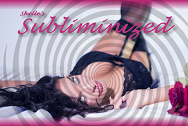 OH did I mention, within this session there are a couple of spots that will be QUIET, do not stop listening...I am PROGRAMMING your subconscious Mind...it will hear what it needs to hear.
One of My goals for the New Year is to deepen O/our relationship, Me as Dominant, you as My submissive... showing you MY power, keeping Me more and more in your mind.  Wanting Me more...needing Me more.  The next two sessions are laying the foundation for an exciting New Year under My Control, never to escape......a new year bringing lots of PLEASURE and Happiness, cumming in many ways, if you're a lucky slave~~~GIGGLES~~~
I plan to bring more of My powerful Management skills to other parts of your life....My greater Control expects your deeper submission and stricter obedience which brings that arousal between your legs.  From time to time I will be more wicked than usual to intensify these feelings and your need to please Me.  I'll be pushing your LIMITS a little...Are you willing to explore all the possibilities, My horny one?
*Contracted slaves---you have something special in the making.
HO HO HO Christmas
It was an awesome Christmas having My whole family together makes it so special.  And thank you for all your Christmas gifts.  I'm so pleased how well you are learning to spoil your Princess so keep it up through 2018. ~giggles~  It does make Me feel appreciated and loved and who isn't happy with that?
W/we continue to have one good year after another and 2018 will be O/our best, yet.
Lady Helena sends Her greetings and thanks for your thoughtful Christmas presents.  Wow, you spoiled her this year for SURE!  I am PLEASED!
*If you sent a gift that either I or Lady H has not emailed you about, email Me or her...you know that with Amazon, I don't always get a name.
Oh and I understand that H and you, have something up your sleeve...Interesting!!!  And EXCITING!!!
NEW YEAR'S EVE
Listen to Brainwash Mantra Loop sometime New Year's eve.  Remember your Domina with your last thought of 2017 and at Midnight lift a toast to your Princess with your first thought of 2018:  you are a slave to Princess/Domina Shelle.  I am your addiction and ​sole desire.  Email Me or TEXT Me, if you can...just keep in mind, I'll be working New Year's Eve, so it could be a late HAPPY NEW YEAR'S GREETING from Me.
So let Me say it NOW...HAPPY NEW YEAR!!!!  Let's make 2018 AMAZING!
UPDATES and NEXT WEEK
you are doing well with your exercise and resolution to stay healthy and lose weight.  I know that this is the hardest time of year to stay fit...so much food.  Are there other goals for 2018 you want to share with your Domina?
NEW YOUTUBE VIDEO
Go see My new HOT Video and leave your Comment:
https://www.youtube.com/watch?v=Cp6ZRIAQGLk&feature=youtu.be&a=
Next week I have a session with you to explore ADDICTION, giving you another example of My increasing power over you.  What happens when the Cure for addiction feels soooo incredible.  Find out next week.
My special deals ...