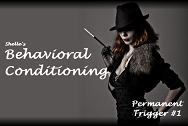 What a long weekend...Needed at the hospital for an emergency. W/we are all called on to serve our purpose. Me, as a nurse, helping those injured from a devastating tornado here in North Carolina. Now I'm back to serve My purpose as your Domina, training and molding you into what I want you to be and you can do for Me, which is what you want to be and want to do for Domina. your purpose is to obey and serve Me....working HARD to make Me happy with you. ~giggles~
I am having this week's mp3 session, Behavioral Conditioning-Permanent Trigger #1 sneak up on you while you listen so I won't tell you much about it, except I am leaving you with a post-hypnotic suggestion. you just love My Triggers, don't you My puppy? So, let's test it out. I have conditioned you to be open and malleable, submissive and obedient. I have become the focal point of all your desires and obsession. As your mesmerizing loop of addiction deepens, it is time to demonstrate My complete control over your mind and body....all leading to a stronger Management over more and more parts of your life. I am leading you into a most perfect state of obedience and servitude where you will do anything to please your Domina Shelle.
TIME SHARE ASSIGNMENT
I am so pleased with you for taking on this TIME assignment. It is sooo interesting to see how much time you are spending with Me and how you are making the most of it. you can see that I have some important goals I want to accomplish. I will be looking over everything you sent and give a summary update, here, next week.
In the meantime, make sure you complete your assignment and email Me your results. I will be responding to your emails, so be sure to bring up anything you need that I can help you with. you can always come back to this Time Share Assignment if you missed it last week, just do it this week...I want you to have a full 7 days and I realize that you missed some stroking time...haha, a BLOOPER for your Domina. OMG, not even a little touch, poor slave...Hey, do you want to c*m??? Email Me and ask permission. Giggles!!!
Anyway, I will keep the "Time Share Assignment"available and am looking forward to communicating with you when you decide that you need to spend more TIME with Me through this assignment.  Kisses
UPDATES AND NEXT WEEK
I have made available some new alternate Gift Payment Options, which are part of the Time Assignment but also one of My Management priorities. Try and see if you are able to use them. They are a very big benefit for Me without costing you anything. Look into using them, safely for your situation. I will explain more about this next week.
I have gotten some interest in submitting New slave stories for SFS. I am thinking of commissioning story topics or themes like an assignment you might be interested in doing for Me. I'll explain more about this next week.
Coming up, you'll be back, strapped on My laboratory table for more experimentation as My lab rat. Notice a pattern? Isn't it exciting that you can't do anything to resist Me? Also next week, I'm calling ALL sissies. Did you think I was neglecting you? Well, it's well worth the wait. The coming session is soooo hot.......
Check special deals ...