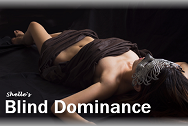 As a follow up to last week's Dangerous Pleasures, this week's file session Blind Dominance is the second in the theme of your Domina taking physical control of your body...........and your mind, of course.  When you listen to My voice, you only hear and obey.  Give in to your desires which are MY desires.  I just love it when you surrender yourself. ~giggles~
you may feel Physically closer to Me than you ever have......... up to now.....I am right there, My puppy.  Experience the deepest pleasure of being so open and suggestible under the hypnotic spell of My control.  Compelled to obey, you will crave to please Me.  And I will allow you to do so and thank Me with your STROKE TRIBUTE which tells Me you want to be owned and under My control and do everything for your Domina....The more you feel My ownership, the harder you get, the faster you stroke.
UPDATES AND NEXT WEEK
Slave for Shelle, look for the first chapter of UNETHICAL THERAPIST- EXPOSED STORIES.  Also everyone, I now have an Instagram account, so take a look, follow Me and spread the word.
Lady Helena is doing well as W/we are working on a special project of training sessions that you will be lining up for.  Think of her as she is sad with the news of her father.
Next week, I am planning to continue the theme of physical intimacy and control in a even deeper way and am now working on having everything perfectly arranged for My slave lover. Lucky you.
I will take you even deeper into enslavement and your Domina addiction.  An even closer intimacy....But for now, I won't tell you how.  I want you dripping with anticipation!!!
I am putting together some assignments to keep this theme going.  I am giving you these continuing opportunities to keep hard and eager to please Me.  I know what you need and what you want.  And I will feed it to you.
With the thought of making you useful to your Domina, I'm still calculating THE EXPERIMENT I want to try on My guinea pigs.
My special deals ...