SEX EDUCATION
Little boys and girls keep studying your lessons HARD this week.  you will be tested to see if you measure up to My increasing expectations.  W/we are going to put ALL your training into action with Brainwashed Phase III--Program 4, an instructional complete training guide, reinforcing that unmistakable belief that you are not simply a person but are My sleeper agent.  I am requiring your full focus and attention.  I'm taking you on the journey of obedience, arousal, control and completion you have been dreaming about.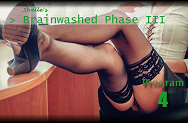 It's so easy to surrender and obey, when all along you want Me to bring you to a place for one of your favorite pastimes when you listen to My voice, when everything becomes so arousing, erotic, and intimate.  That's when you say, Yes, Domina, i want to please You.  But I am going to be a little more demanding for this attention and care I am putting into your development as My love slave.  Follow My instructions exactly beyond your orgasm and tribute with the perrrfect time for Challenge To PLEASE, one month from My birthday and send Me to the beach.  That is what completes orgasm releases.  That's what actually pleases Me. (Chastity slave you may offer denial)
When you crave to serve Me, I feel intimacy and you feel heightened arousal of My orgasm control with the reward of pleasing and spoiling Me.  Arousing isn't it?  Up your game.  Make Me really happy.  Spoil Me with something special.  Take Me to DINNER and over Lobster, My favorite meal, you can ask Me for more orgasm release permission slips and instructions and feel My personal touch whenever you touch...... ~giggles~
After listening to this session, if you are married or with GF and have a need to follow up on anything, let Me know in an email with "Under Cover" in the header.  I have lots of ideas.  I can have your Beta male instructions and assignments for the "other" Woman in your life.  Think how exciting that would be.
AUDIO BOOK
Later this week I will have an Audio Book, Andrea's Sissy girl Beach Story.  An extremely erotic, imaginative tale of Trans-Formation.  Watch My Twitter.
UPDATES
Summer Fun Assignment.  I see one excellent review and experience.  Kisses....Make a extra effort to enjoy your life with people you love.
NEXT WEEK
I am thinking of you, My chastity slave.  Next week I will have a 7 to 10 Day Chastity Assignment.
After next weekend your favorite color will be PURPLE.  Enter My haze of Hypno-Persuasion 2.
Also next weekend, a reminder of your instructions from Puppeteer.  I am too good to you!
My SPECIALS have changed ...