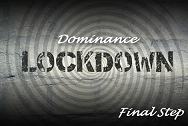 COUNTDOWN is on!!!
Wow, My horny puppy, you are almost there.  W/we are about to wind up LOCKDOWN in this perfect state of Chastity...Obedient, submissive and devoted to serving Me in all ways… and always hard HORNY and on the edge.  What could be better?  Chastity Restraint: Dominance - Final comes with WEEK 4 Assignments.  These last chastity sessions play a big part in your training as behavior modification.  The Chastity series is linking together PLEASURE, PLEASING and soon RELEASING.  I am teaching you whether in Chastity or stroking and cu*ming for Me, your need for submission and obedience brings you to Me in servitude where your primary need is to Please your Domina, as My slave.  The pleasure you feel is in complete servitude.  That is your motivation.  My sweet Domination and tightening Control over you is arousing.  Being My slave gives you security and a strong connection to your TRUE DESIRES, allowing you to live as your true self when with Me.
As My slave, you surrender control... need My permission to release and give up something of value, your Tribute, to acknowledge submission to My Dominance, because that's what I want you to do and you do what you are told...Now, Pleasure=PLEASING ME=C*m.
Thanks for all your concerns and good wishes.  Yes, I am finally feeling better and am now back to your HARD C*ck. ~giggles~  Lady Helena is also feeling better.  Watch for extra lil playtime teases...follow tweets and facebook… Watch your emails.  I still can't record any extras but the COUNTDOWN will be perfect.
VALENTINE'S DAY PREPARATIONS
LOCKDOWN has been very successful even with Me sick.  My brainwashing and conditioning have programmed you perfectly for Me.  Now Valentine's Day....a most important day for Me.  Besides with your possible upcoming release from Chastity, it is the time to give Me your tender loving care on My way to full recovery.  I am giving you that opportunity with My Challenge To PLEASE, organized just for VALENTINE'S DAY.  Make Me your Valentine.
UPDATES
I had to reschedule My Photo Shoot, I want to look My sexy best for you.  If you want to help with My expenses, as I said I would allow you to do so...and maybe I'll send you a few private pics as a reward.
After the shoot, there will be NEW pictures in GALLERY on SFS, that will not be available anywhere else.
NEXT WEEK
I will have an updated blog on Valentine's Day, Wednesday, February 14th.  I will be "releasing" some presents for you.....and receive more presents from you. ~giggles~
As you reach this deeper level of enslavement and control, your next step will be Shelle's Management Institute.  I am working on a Curriculum that will secure your future with Me by investing in your Domina.  Nothing happens without a purpose, My puppy.
Check these NOT-Chastity special deals:
Blanked --
A COMPULSION. Another step DEEPER into your MIND and into My control.
Behavior Modification --
A compulsion...highly addictive MIND FU*K. you NEED and DESIRE to listen...
Programmed --
A perfectly PROGRAMMED slave is what I want.