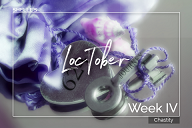 Are you getting closer and closer to the edge, My weak puppy? And now with Loctober WEEK 4 - Chastity Tease you'll be mentally encased for this last week in LOCKDOWN. Mind F*CKED with My tease and DENIAL...I love playing with you. Tormenting you while in chastity is so much sexy fun for Me. Seeing you hard and HORNY, overwhelmed with EROTIC desires makes My pretty little pink panties moist.
I know that sexual release is something that you are craving with the vivid sexual images you hear My voice describing for you. Don't you just wish.... But you find that needing My strict and complete control is what keeps you so aroused and horny. your need to Please and obey is becoming overwhelming as you listen to this session daily. There is nothing better than a slave who is desperate to serve its Mistress. I think you are just about there, aren't you?
For some, Chastity is built into your DNA, so you can just say "Thank You, Domina, for knowing what i need." And for some, it's more difficult. But you are learning to sacrifice for your Mistress, such an essential quality for a true submissive. So, with this week's Assignment, I am going to help you, by using Chastity to give you a lot of essential things to think about and work on for Me. Obedience and pleasure are in full circle. Yes, you are going to be thinking of Me ALL the time. But with your ASSIGNMENT you will desire your place at My feet, always MINE. LOCKDOWN is training you to be the best slave you can be for Me, reinforcing the importance of sustaining O/our meaningful relationship.
Don't forget your JOURNAL entries and your other Assignment instructions. Playing with you, My sex toy, gets Me so excited. Ahhhh that feels so good. Giggles
UPDATES
Again, this is a deep hypnotic session with a very strong control component suitable for anyone even if you are not participating in LOCKDOWN.
For those who are in LOCKDOWN, I will send a special orgasm release session at the end of Loctober to consummate U/us!
NEXT WEEK
HALLOWEEN is next Sunday. YIPPEE! A favorite time of year. I have a super sexy Hypno-Bite session. I am so good to you... Also, check out My Special Halloween deals to pick up any of the sessions you don't already have. I'm so good at Tricks and Treats.
This week here are My special deals ...