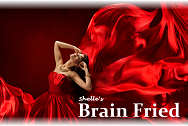 Always ready for more...Isn't this great fun playing with your Domina?  With this week's session Brain Fried, once again, you'll find a much FIRMER and more strict Domina.  I will use a distraction, one that will take you to lala land.  Don't worry about what's happening to you.  Trust your Domina, She knows what is best.  I place you exactly where you belong, under Me. Giggles!!!
As you listen to Brain Fried you are to follow My instructions, exactly.  you want to please your Domina.  I raise My expectations.... your intense arousal increases your desperate needs.  So real, you feel My hand on your arousal.  Trapped.  you have no choice but to submit.
WATCH for DETAILS:
If I am pleased with you, I may allow you the lucky chance to beg for some relief, later next week..... Afterwards, I may give you Lady Helena, as a present.  Can you imagine her in charge of your ULTIMATE release.  you will have to know how to ask.  The more desperate, the better.  Helena likes that in a slave.  I want you to have an unforgettable experience and exposure.  So stay tuned for these further instructions.
UPDATE AND NEXT WEEK
This was a very full long week for Me with My sisters visiting from Tennessee.  It was so good to have a mini family reunion.  I also got an update on developments with The Farm.  I'm thinking of how My worker slave can help Me....maybe with an assignment.
What do you think, My pet?
I've been thinking about you a lot, My pet.  I know you think about Me all the time...I like that.  W/we have been so physically close, lately.  I know you feel it too with some of the follow-up conversations W/we have had recently.  I love feeding this sweet addiction for your Sweet Princess......With next week's new file session, maybe I'll be spending the whole day with you.....mmmm... What can W/we do?  Stay tuned.  Now, can you bark for Me, My puppy? ~giggles~
In coming months I will be depending more on the talented Lady Helena, as I further develop My dungeon.  I'll let a hint of a secret out...just something about a boot camp.
Check My special deals!