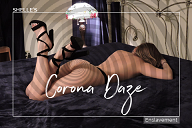 W/we are getting through this pandemic one week at a time. W/we ESCAPE together into My world....
My sweet, when the blood rushes from the head and slips down your chest to your stomach to your "head" all worries evaporate. ~giggles~ It's so easy to focus on your Domina, you are never alone. From when you wake up, mantra, listen to My voice and go to sleep at night, I am always there with you.
Let My voice help sooth your mind and thoughts. Feel My breath in your ear make you throb. you know how much you need Me and now is the time to let Me take over. My thoughts are your thoughts. All negative feelings of anxiety melt away. With this week's Corona Daze you are not alone, you are very close to your Domina. Captured, caged and seduced, no one gives you the pleasure I do.
you focus entirely on the vivid images you see of My beautiful sexy body against your skin. Let go of all worries and anxieties. you want to stay close to Me so I keep My slave safe. I am your savior and protector from danger. The more you need Me, the closer you are, the more you follow and obey. When all your thoughts focus on your Domina, you are weak for Me. All your decisions will focus to benefit Me and that benefits you, My slave. So get comfortable, relax and enter My World of EROTIC HYPNOSIS right now. Just be careful, this session is SNEAKY. It is BEYOND compelling and well DISGUISED...says those who listen. Such a clever use of COVERT HYPNO-BRAINWASHING POWER.
CHALLENGE TO PLEASE
After you listen to this week's Session, I allow you to make a contribution to My Challenge To PLEASE. Your Domina has worked so hard to fuck with your mind. She loves to be cared for.....
For NON-CONTRACTED
If you are a follower, but not yet close to Me as you need to be, then get in touch to ask for My slave questionnaire as a first step to getting closer as My contracted slave. Put "Questionnaire" in the email heading. W/we can discuss your interests and My expectations for getting more of My scarce time to help you get through these tough times. Submission is liberating. Being Owned by Me is Bliss.
UPDATES
LAB RAT Report Here are the results of The Lab Rat-Blank Mind Amnesia Experiment. I was very pleased reading your questionnaire response. See how it fits with your reactions.
YouTube Channel (Come Listen!): I'm adding a new video to My YouTube channel. Relax and let Me take you away from all your stress and troubles. you'll enjoy it coming away with your Domina. Take a look and leave a comment, My pet.
NEXT WEEK There are so many places to take you, like the Abyss.
Check My special deals:
Voice Of Control --
No more thinking. My voice dispels all other thoughts but MINE...just as it should be.
I Am your Mind --
I am becoming MORE POWERFUL, more INFLUENTIAL over you.