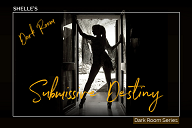 After My Birthday, I'm in a very Loving and SEXY mood. you'll see what I mean. So, I decided to change what I originally planned for this week. Instead of your crawling over to My sexy feet (wait 'til next week for that), I will be taking you back into My Dark Room for your Submissive Destiny. This is the 4th TRIP into My dark room, but know that every trip to My dark room is DIFFERENT and STAND ALONE. A place deep in your subconscious mind. Ummm, I know you remember how much you loved it here. It's one of your very favorite places in My world of MIND control, CONDITIONING, BRAINWASHING, mental enslavement and so much pleasure. Be warned, My sweet. My Dark Room is the place I take you for DEEP PSYCHOLOGICAL programming. This mp3 is INTENSE, just as all visits into the BLACKNESS.
It's OK, though. you've been there before and if I know you, you are already aroused by the thought of returning to have Me manipulate your mind… No reason to share with you what I will do this time, here in My Dark Room…you don't need to know. Just OBEY. So CLICK NOW. This is your safe place, where you trust, blindly and mindlessly. Listen and accept all that I do to your open and suggestible mind. you can't resist… don't even pretend. Giggles!!! you're already way too "programmed and BRAINWASHED" for that. So, just strip down, listen and surrender to My soothing voice and power. I know how much you need Me. And now I am giving you something you will have for the rest of your life under My protection, My baby.
Brainwashing...CONDITIONING...MIND ALTERING Hypnosis. This session is GF.
UPDATES
Thank you, again, for how special you made Me feel for My birthday. I know you enjoyed celebrating it with your Sweetheart/Domina!
After reviewing My priorities, I've decided to change My Challenge To PLEASE next week so all your generous contributions go into My Savings for those unexpected, emergency expenses that I really need to prepare for. There seems to be plenty EMERGENCIES going around.
Be extra careful and stay safe. This Covid virus is persistent and still dangerous. Listen to Nurse Shelle and follow your Month 5 Lifestyle Challenge rules and local health protocols.
NEXT WEEK
It's OK to think of crawling over here now. you are going to find it so hot and sexy.
Plus, I'll be calling all sissies to come play on My Playground...
I will have a SFS slave story posted for your reading pleasure.
Contracted: I have teased you so much with Vows....I can be a TEASE...But watch your email. Kisses
Check out My special deals:
Malleable Mind --
Do you have any idea how receptive and malleable your mind is to My control?
Brainwash Mantra LOOP --
A perfect brainwashing loop file or a quick mind fuck.
Latex slave --
Pure BLACK perfection...So SLIPPERY, so HOT, so SEXY...listen and accept what I want.