ORGASMIC RELEASES
Are you ready?  Do you feel teased and denied, My baby?  Are you prepared to have your Carnal Desires fulfilled?  MANAGED ORGASM is your Perfect pre-Assignment to My Valentine Chastity LOCKDOWN.  It cums, so to speak, with your Sign Up This Week for the LOCKDOWN.
***Now, if you just want My orgasm instructions, watch for MANAGED ORGASM in New Releases....this is for those who are not doing CHASTITY LOCKDOWN.
SIGN UP and assignment INCLUDE 3 DAYS of pleasure and 3 very SEXY PICTURES of your Domina, exciting enough to give you an orgasm by themselves.
This is preparing you for Valentine's Day, the day for Love.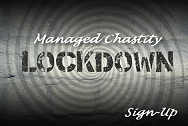 This weekend starts Valentine's Chastity LOCKDOWN.  If this brings a big smile to your face and a big bulge in your pants then SIGN UP for 26 DAYS of hard and horny Chastity and a lot of TEMPTATION from that little devilish voice that whispers in your other ear.
I also have weekly assignments.  you are expected to be ready to SIGN UP for AT LEAST My First week option.  Remember that the Sign Up gets you the first assignment---MANAGED ORGASM so NO need to buy it separately.
If you don't think I can keep you hard and aroused for 26 days without cumming, just try Me..... your excitement continues either way.  Once you have signed up, you MUST EMAIL Me with either 26 Days or 1 week in the subject line.  This informs Me of how long you are willing to be chaste for Me.
If you are successful and complete the LOCKDOWN, you will get an extra special Valentine's day gift that you will remember for a long time from your sweet Princess.
UPDATES AND NEXT WEEK
I will be putting together a new "Management" Category.  This week's session is a test for Shelle's Management Institute having it perfect before a Grand Opening.  you are getting your wish to have Me in control of more parts of your life to keep your Domina, your Princess, your LOVE close and always on your mind.
***This weekend's Valentine CHASTITY LOCKDOWN is followed by 3 new Chastity files including weekly ASSIGNMENTS to manage your days, keeping you hard and horny for Me all leading to Valentine's Day. (not included in your signup)
My special deals ~~~