W/we all know and have seen a wooden, limp, mindless puppet, completely controlled by it's puppeteer. What could be more manipulating and dominating than a puppeteer over that puppet?....your Domina over Her slave. Listen to this week's session The Puppeteer. The INDUCTION is one of My best EVER, I think....CONFUSION takes over, subconscious mind gives in. you will lose this time (your mind), My helpless puppet, limp and mindless, required to respond on the end of My silky shiny strings. I am your Hypnotist and your ENCHANTING Puppeteer. And you, My puppet, will lose all control, giving in, passive, submissive, obedient to each tug of My string. This will bring you to the most intense depths of physical and mental enslavement, a place you will come back to again and again. You will find yourself caught up in automatic RESPONSES that are ongoing...NEVER ending. As My control strengthens.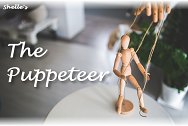 This session will be like that book that you just can't put down. I will attach to you….giggles, like never before. I'll get under your skin and deeper...
I have very specific post hypnotic requirements that are irresistible, you will not be able to resist, of course...and when the time cums, you will feel the intensity of My control and find yourself begging, PLEADING...ohhh, so sexy, "Please Domina, i'm begging You…..." I know even before you listen to My voice and words, you understand how POWERFUL this session will be for you, My little puppet.
Note: Contracted you can look to your SFS monthly Calendar. More updates on that mistake...giggles!!!
ASSIGNMENT
Contracted look in SFS for this week's Use, used, useful Assignment posted as a complement to this week's Puppet file. you will make a list of 5 for each word: USE, USED, USEFUL, as explained in the assignment. If you are not contracted, you may use the above assignment link.
UPDATES
Contracted look for TWO new slave stories posted on SFS. I am working My way through the stories you've sent, trying to add My editor's touch to make you perfect for Me. I am PLEASED with an abundance.
NEXT WEEK
After a teasing delay, you will be happy with the results of My new experimenting techniques in Neuro-Lab Rat 2. Could that be next week...or will I make you wait...Waiting makes you need Me even more, you know. Don't you just love being used and useful to Me?
Check My special deals!