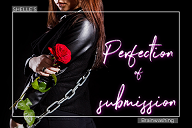 Recently, you have seen the sweet side of your Domina Shelle. Even when I had you bound and shackled, I have been very gentle and reassuring with you and opened you up to the pleasures of Obedience to Me. This week, I will be answering some questions you may have like- Why do I have a submissive mind? And I'll explain why there is so much pleasure in obedience. With Perfection of Submission, you will understand how I bring out the real you, the very best in you. So, get comfortable and let My words relax you and take you deep into trance, away from all your worries into O/our private Erotic Hypnotic World. I want you to be receptive and passive and I will do all the work for you.
I love playing with your mind with a little distraction. You love this too.
Each week, you embrace all My brainwashing and conditioning to reinforce the very things that W/we both like about you... who you are and who you want to be. This week I am going to be teaching you about the brain and that part of your brain that makes you feel soooo good. I will be perfecting you by perfecting your submissive nature which makes you crave being subservient to your sweet, loving and wickedly powerful Domina. So slip ever deeper under My domination and control. Can you think of anything more you would want than having your Domina perfecting you... for Me? Of course not.
I will always take care of you, My sweet submissive, like you take such good care of Me. Listen and think of all the feelings you have with everything I say to you. Then come back to this session whenever you are feeling down or lost to help you reset your priorities. This is Real. This is your truest identity. This is what is important to you, being dominated and submissive, serving Me.
Be sure to check out My new Domina Shelle LoyalFans page...I will see you in chat there, just think MORE time together...Be sure to subscribe.
UPDATES
Remember when you were off to see the Wizard of Oz? I mean Me. Well, next week I'm off to see My sister in Tennessee, June 1st. It's encouraging to see her make progress. Come along and follow the Yellow Brick Road to My Challenge to Please. I just love it when you surprise and spoil Me because you know how much it pleases Me.
NEXT WEEK
Next week, I will keep the weekend for My contracted slaves. I will have a little gift for My devoted contracted slaves. Kisses. I've said it many times...because it's true. I couldn't do this without your support. I will also make available a new Specialty session for fantasy fans who want to play with Mommy.
Look to this week's special deals for any sessions you might have missed:
Paralysis-Carnal Desires --
Listen and allow yourself to open up to your own CARNAL DESIRES.
Addiction is a Bitch --
I love mind fucking you, and progressively My control over you is becoming stronger and more pervasive...
Sexual Manipulation and Sacrifice --
you want to be manipulated and abused by your Domina.
Subversion --
POWERFUL Brainwashing and Mind Conditioning.