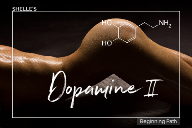 This week will satisfy all your cravings, even those you didn't know you had with Dopamine-Addictions of the Mind.  As you float into a state of pure relaxation and sink into sleep, I am going to switch on your Dopamine neural transmitter.  The more Dopamine that flows through your brain, the more intense the pleasure.  Another experiment to see just how much DOPAMINE you can absorb.
The intensity levels of pleasure may vary based on your reaction to the images, fetishes and addictions I will be feeding your mind.  One gauge to measure these Dopamine levels will be how fast, your hard and throbbing c*ck grows.  My guinea pig, inside your mind I go again.  Now you see why I am making this an ABSOLUTELY COMPULSORY session.
For this scientific experiment I have a gift of pictures, specifically for this week's session.  I do this to double your pleasure.  The pictures includes a Mantra to recite which explains how you achieve maximum pleasure by pleasing Me when I permit your release with a Stroking Tribute.
Why not go all the way with your Domina.  See My Panties on Special.
CHALLENGE TO PLEASE
W/we continue to make progress on reaching My goal with just 3 weeks to go.  Challenge To PLEASE is My immediate priority and you are allowed to continue to be helpful.  I want you to keep the rewards of being in My Princess Circle in your mind.  As all your pleasure centers climax and you shout out My name, if you are thinking of Pleasing Me and make your CHALLENGE contribution, then this Erotic Experiment is a complete success.
I am so pleased with your response to the Chastity Assignment.  I want My submissive to understand the many virtues of abstinence and sacrificing for Me.  W/we acknowledge the important role chastity has in O/our D/s relationship.
I want to give you more opportunities to surrender control to your Domina through file sessions, assignments, and individualized personal arrangements.  If you, finding yourself totally obsessed and addicted with your Domina and are in need of more strict obedience and control, get in touch with "Management" in the email heading and tell Me what you need from masturbation instructions and control to strict obedience and abstinence to a combination of both.
UPDATES
Dopamine is soooooo good, I want EVERYONE to concentrate on it with My pictures, so I am putting off Brain Chip-B PLUG until next week.
Contracted, look for a new SFS slave story.  The Collar.  I like it.  Are you wearing yours? ~giggles~  Oh and your March session too.
NEXT WEEK
In My Dark Room of Destruction discover new ways fantasies of Me will make you weak and hard under the pleasure of My power over you.  This arouses you....you Obey Me.
Check My special deals:
At My Feet --
Have you ever felt what it is like to be BELOW and BENEATH a Dominant Woman?
Breast Obsession --
you are already addicted to My voice, and have surrendered to My words—now it is time for you to obsess with my body—giggle.