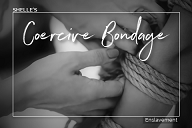 Now that you are My perfectly hypnotized submissive subject, I am slightly changing plans for this week. I loved your reviews and feedback for the last two sessions. So, I think you are ready for this session. you TRUST Me to fulfill all your desires, fantasies, even test your fetish limits. So just relax, let go and surrender for your Hypnotist and Domina. you're being put into Coercive Bondage. I often hear you say: "Domina, i will follow You anywhere You want to lead me." So, this will be a good test for you, slave. Mmm... I wonder if you will experience everything I'll put you through.
I won't tell you any more about what will happen to you in this session, except to say it got Me wet and excited describing every detail of how I am controlling you. Listen and obey. I know how much you want to please Me and now how much you crave My complete control in and out of trance. There is such intense pleasure when that happens. This is a bit of an Experiment, continuing your training and conditioning to be what I want you to be. you simply obey, without thought or question. Wear your collar when you listen as a reminder of who you truly are. you LOVE HONOR and OBEY your Domina. you will always be MINE.
UPDATES
BIRTHDAY PLANNING With My Birthday on August 5th, W/we are less than 2 weeks away from the day I was born to own you. I am using My Challenge To Please to help you fund My OCTOBER birthday beach house in Florida...I'll even take you with Me.
you know how much I like surprises and Birthday cards. you can send one, now, so I can get it in time. My Address: Shelle Rivers
415 Pisgah Church Rd. #235
Greensboro, NC 27455
And for My contracted, you should have gotten My gift conditioning video. Did you find it HOT?
LADY HELENA will have a new sexy session which is planned to be available later next week. Stay tuned for more details.
Contracted, I am posting on SFS a slave story that complements this week's session from a devoted slave who has NO limits on what he wants to do to please and serve his Princess Shelle.
My baby, so many unexpecting things have been coming up that I find Myself behind giving you the attention you need. I am working on getting back on a more manageable track with more time and attention for you.
NEXT WEEK
With next week's session, I am going to let you commit to Me with a special way.
Check out My special deals ---