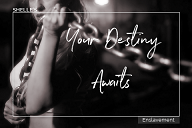 My sweet slave, you know that I love to play with you. I have so many places that I can take you...Places that I have created inside your mind. This week, I have decided to take you home... to a very special place that I created within you so long ago... O/our shared fantasy house, to be exact.
I know that you love it here, and you love to experience the many delights that can be found inside. Have you ever asked yourself though, are the fantasies yours, or are they all Mine? Is there even a difference?
your Destiny Awaits...Just lie back and relax, and allow Me to lead, and do all the thinking, My darling. Let Me cocoon you in My sticky web of words, feel them cling to your skin, and let them sink in, penetrating your open malleable mind. Surrender to the pleasure.
I know that you love it when I bring you to your knees, when you beg and plead, when I make you promise Me anything that I wish. With every word I whisper, with My every little gesture, I completely control you.
This brainwashing is very strong, and it will help to totally enslave you, before you know it!
Prepare to be lost in the BLACKNESS of My hypnotic abyss, and experience a blissful depth of trance you'll enjoy and crave, again and again.
Next week: Pictures, surprises for My contracted, and YES, FINALLY for those who have begged, a FD session.
Take care of your Domina so that She has more time to TRAIN your mind...My future is in your hands.
It's almost SPRING! I feel alive. Let's get moving!!!
Send your LOVE to all those that are suffering in the Ukraine and throughout the world.
Take a look at My special deals:
777 --
File with no description--just listen and accept My words.
Obsessed and Addicted --
Everything She does feeds your obsession and every part of Her is addictive...
Enchantress --
Experience an alluring adventure with your Princess...