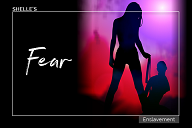 Obedience to Domina Shelle is Pleasure has become one of your central realities.  you have been taught that when you obey My directives you will experience pleasure....but sometimes there are obstacles to strict obedience to My will.
Sometimes you become fearful of losing ALL control...you may resist with fear that keeps you from the very thing you know you desire most.  With this week's session FEAR...I will make the necessary adjustments to re-program and condition your conscious mind into following the path that leads you directly to your desired reality and destiny.
Are you brave enough to listen and overcome your fear?  Well, that is all I will say about the session.
I will leave you weak to MY power and make you fearless...I know how excited and aroused that makes you.  I am so good to you, puppy.  When you are under My absolute control, you please Me with your submission and obedience.  you know that obeying Me is good for you.
It is what you need and want.  your drive and desire to Please Me with fearless obedience is sheer Pleasure.
UPDATE
Thank you, My puppy, for making this a most Amazing Birthday for Me.  I do love how you have really spoiled Me, showing your Princess such love and devotion and sending Me such wonderful presents.  If you haven't gotten My personal Thank you, it's because some gifts came with NO name attached.  So please contact Me regarding what you sent.  I know how much pleasure you get from taking care of Me.  Should W/we do this every month? ~giggles~
WOW!  Thanks for sending your Domina...and Helena to the beach for fun and sun and yummy food.  Did you enjoy the pictures?  Maybe you want a souvenir of My worn p*ssy scented PANTIES to keep you company as you sleep?
I have some catching up to do with your school assignments, but I will be reviewing what really turned you on for future training, as I am working on your personalized EXPERIMENT sessions. ******If I am quiet, it is because I am perfecting the EXPERIMENT...plus making sure you have My PERSONAL CUSTOM TOUCH...
NEXT WEEK
Every piece is in place, My guinea pig.  All I need for the EXPERIMENT is your mind for six weeks.
Check My special deals:
No Recall --
you will have NO memory of what I'm about to do to you...
Spellbound-Unable to Resist --
Find yourself under My spell with NO way out.