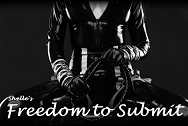 Freedom is such a positive concept known around the world.  On Our Statue of Liberty in New York City is written:  "Give me your tired, your poor, your huddled masses yearning to breathe free".  With this week's Freedom To Submit session, CAN YOU SAY EMPTY, MINDLESS and HELPLESS.  Freedom allows you to be at peace, relaxed and happy to do anything and everything you may choose to do.  YES, I have this power...I am going to show you.  I will take you into an amazing deep trance and FREE you.  Giggles.
Listen for Me now...but only if you LOVE deep trancing.
I have two versions of this file.  IF you choose the file to hear My voice guide you to an ERUPTION, don't forget My C*M Tribute.  The second HOT version is for Chastity, no cumming, but offering your denial as a sacrifice to Me.  Kisses.
UPDATES
I am already counting down the days to My birthday, as I plan My exciting 1 week vacation at the beach, My favorite place for sun, running FREE, and wearing My sexy bikini.  It's not too early to ask what I want for My birthday.  Just email, you'll see.
While I am away, think of the Summer Fun Assignment for yourself and keep Me close to you.  What about a goal for this week, getting up and moving at least 15 minutes a day getting nice and sweaty for a shower and a chance to lather My ....Don't worry, I'll be checking in on you daily....you don't need that much FREEDOM.
A reminder.  In New Releases I have the Audio Book that you will love listening to - A Sissy's Tale.  Be sure to read the description, it will push some hard limits.  It was so much fun recording My sissy slave's adventure.
I've decided to hold SEX TOY 1, for the week after My birthday.  Prepare yourself, My love slave.  Smooth shiny metallic....
Chastity now, Chastity forever Hard and Horny.  Chastity slave, you are doing so well with your Chastity Assignment.  Never too late to start!
Remember, on the 1st of August, I have the gift of Release for you, My puppy.
Then, in late August, early September, I'm taking you to Tennessee with a possible new Farm Assignment.
NEXT WEEK
I have a Brain Chip upgrade just in time for My birthday.  Lucky you....Plus a little surprise.
My SPECIALS have changed ---