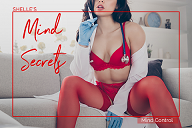 Happy Halloween or Happy TradeGasm---hummm, W/we shall see...is it a TRICK or a TREAT?
So, here W/we are, My sweet, the month is passing, and you have made it through 'til now! That makes Me so happy, knowing that you have been able to sacrifice all month long, to prove that you Love, Honor and Obey Me, no matter what I might ask.
Just knowing that you have sacrificed for the month of Loctober is such a turn on for Me. I am able to take as much sexual pleasure as I wish, and you get the pleasure of knowing you are pleasing Me. Isn't that a true win/win situation? W/we both get pleasure, just of a different kind.
That act of sacrificing is good for you, My slave. It strengthens the bonds that I constantly weave within your mind, and makes it easier for you to accept that My wants, My needs, My desires and My pleasure are what matter most to you.
In fact, My sweet, since all of those things are so important to you, if you ask nicely, I will let you sacrifice for longer... (giggles)
Are you ready for a BLISSFUL Release?
If you really want to release, well, there are ways I might be persuaded to allow it. What about an exchange, My pet? If I allow you the pleasure of an orgasm, what more are you willing to do for Me, or give to Me? I know that there is one way you could pay Me for the privilege... There is something that you have, that I desire very deeply. No, don't look worried slave, I'm not about to financially dominate you, even though I could. No, My pet, I have a much more valuable form of payment in mind.
There is something that is of much more value to Me. With this week's Mind Secrets, you will find out exactly what I have in mind.
The 'currency' I am thinking of rests within what used to be your mind, the mind that now belongs to Me.
The Secrets of the Mind are the means for Me to deepen your enslavement to My will, and you are going to give them all up, just for Me.
Resistance will not be an option, no matter whether you release or not. I have so many means at My disposal to make even the most reluctant mind spill every secret, just for Me.
UPDATES
Watch OUT for the DarkBrain, it will be lurking just around the corner....Watch for DETAILS!
Are you dressing up for Halloween? Share your pics with Me. I may make a few of My own...I have NOT forgotten the picture pack...just holding out a li'l longer.
Next week, well let's just say...WAIT and SEE. Giggles
Don't forget to check My special deals, for some extra TRICK or treats.