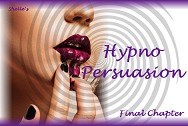 What an intense few weeks W/we have shared together. Are you spent, My baby? No time to get soft on Me. Come on NOW! I am taking you on a sci-fi fantasy adventure where wicked, dark, dangerous seduction takes you deeper to the inevitable. First there was Magic in Hypno-Persuasion, Now My purple (Powerful Uninhibited Reprogramming Progressively Leading to Enslavement) virus has returned with Hypno-Persuasion - Final Chapter. Complete surrender to My control and enslavement over you, My slave, obsessed with all you have become.
If you liked Hypno-Persuasion, you will be in awe of Hypno-Persuasion - The Final Chapter. I'm not going to tell you much about this session. I will say, WOW! I am TRULY AMAZING!!! This session made ME tingle...Made My legs weak and My panties wet. What is it about POWERFUL Women that pulls you in, like the SEXIEST LURE of a Vampire. Pulled so deeply, knowing that stopping is the safe thing...YES, I know W/we have gone here before...but NOT LIKE THIS. CHILLING!!! GRACEFUL!!! ALLURING!!! COMMANDING!!! CAPTIVATING!!! COMPELLING!!! All wrapped up in this perfect session that I created just for you.
Don't be afraid of being helpless, captive, or infected and at My mercy. you will be lured and seduced, but you will never regret the outCUM. For this, I am suspending The Puppeteer as this month's release on the 15th. Instead, you will be COMPELLED to listen to and follow instructions in HYPNO-PERSUASION-Final Chapter...you will obey and submit, with your overwhelming desire to be controlled by your Domina.
7-10 Day Chastity Assignment
Let's get that c*ck in a CAGE. you do not have to be a devoted Chastity slave to do this assignment. This is a 7 day Chastity Assignment, that you may extend to 10 days. The arousal of pleasing Me in Chastity, keeping you HARD and HORNY is My gift that keeps on throbbing and so submissive. I will be directing your daily activities, giving you a special mantra with specific instructions for each day. For contracted, this assignment supersedes your daily calendar.
There are session assignments for each day.
NOTE:  If you need several of the required sessions, email Me for a SPECIAL PACKAGE DEAL.
UPDATES
This week, Something for everybody....And Everything for Everybody. Watch for in New Releases -- you will also find this wonderful AUDIO BOOK, CHRISSY sissy beach story. I thought you would love hearing Me narrate this story written by My sissy slave andrea. You will love the IMAGINATION, It's about obedience and trans-formation. It's exciting and arousing as she offers devotion, dedication....everything to her Domina. Thank you, My sissy slave andrea. Love your Twitter.
After listening to Brainwashed III--Program 4, I was thinking of My beta slave with a sex partner. I have lots of ideas. I can have your Beta male instructions and assignments for the "other" Woman in your life. Think how exciting that would be, under My instructions and control....Under Cover.....let Me know.
Next week:  I'll TRANCE-FORM you into My SEXY TOY...ohhhhh, lala.