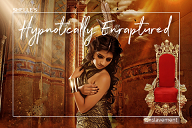 Welcome back to BIRTHDAY week. The Celebration continues. you love Me and I feel so good about that and all you've done to make Me happy for My birthday. So I had a change in plans. I want to make this week SPECIAL and intimate for U/us as W/we celebrate My Royal Birthday. I am bringing you even closer to Me, into My Sanctuary right there in your mind with Hypnotically Enraptured (Offered at special BD price for a short time).
Fall deeper down into My hypnotic abyss, OUR place, My sanctuary just for you, My baby. Feel My soothing energy pulsating in your sleepy mind, into your body and your soul...... Throughout your whole being, the closer you are to Me. So, come REALLY close, My pet....come to your Domina for My healing and loving presence, your reward for My Happy Birthday.
My sweet, strip down for Me. Take off all those clothes. Just leave them where they fall. you will feel and know at a deep subconscious level in the most real sense possible, that I am a positive force and influence in your life, and it's safe and desirable to surrender to My Absolute Domination.
Relax now, as My words sculpt a beautiful white marble temple, off in the distance, a Shangri-La right there in your Mind. My sweet words draw you closer as you enter into a peaceful trance, into hypnosis and submission. Each word is a stroke of My hypnotic brush painting a beautiful scene. I'm sitting on My throne. Walk closer to Me, My sweet, and kneel at My feet, so I can comfort and heal you. I dwell here inside your mind forever and I am always there whenever you need Me.
BIRTHDAY CELEBRATION CONTINUES
I want to thank you so much for making this a special Birthday for Me with the wonderful presents you've sent. In case you missed this, here's that sweet musical GIFT for your ears ONLY. I know you'll love it. It's so cute, like Me. ~giggles~ I have not had a chance to send out all the THANK you emails...so hang tight. I do know that I received gifts with NO names. If you do NOT hear from Me regarding a gift that you sent, please email Me.
For those not knowing what to do for your Queen/Domina, you may Tribute Me. For a belated Birthday present OR an additional gift of appreciation, My favorite would be a Gift of Love. Then, feel the love and intimacy when you listen to this week's session.
UPDATES
I am putting the finishing touches on "Vows of a slave" that I am excited to send all My contracted. So look for it in your email.
NEXT WEEK
Think foot fetish.....and then come play with Me on My Playground.
My special deals have changed:
Behavior Modification - Appreciation for ME --
your submission is your COMPULSION...
Hypno-Sleep --
Deep Penetrating Arousing Sleep...